Back to school is the perfect time to get into a healthy routine. For me and my family, I look for protein-packed breakfasts that help us get through our hectic daily schedule.
Here is a great recipe for a granola that's made with olive oil instead of butter and honey in place of sugar, which makes for a perfect guilt free breakfast that keeps adults and kids happy on the go. It also makes for a great snack, ice cream topping or yogurt mix in.
Ingredients:

5 cups old-fashioned oats
2 cups unsweetened coconut flakes
2 cups unsalted pistachios
2/3 cups unsalted pumpkin seeds
1 tablespoon sea salt
1/2 cup packed light brown sugar
1/2 cup packed dark brown sugar
2/3 cup organic-grade a maple syrup
2/3 cup organic extra virgin olive oil
11/2 cups dried cherries
Instructions:
1. Heat oven to 275 degrees. Line two baking sheets with parchment; set aside. In a large bowl, mix together oats, coconut, pistachios, pumpkin seeds and sea salt. Set aside.
2. In a small saucepan, combine sugars, maple syrup and olive oil, stirring over low heat until the sugar dissolves completely. Pour over oat mixture. Stir well.
3. Spread onto sheets evenly. Bake until golden, about 20-25 minutes, rotating pan once at 10 minutes. Cool at room temperature. Break up granola; sprinkle with dried cherries. Store in an airtight container.
Per serving: 410 calories (48.3 percent calories from fat), 22 g fat, 0 mg cholesterol, 430 mg sodium, 45 g carbohydrates, 6 g dietary fiber, 24 g sugars, 9 g protein.
* This post is contributed by Elizabeth Chambers, entrepreneur, television host, and co- owner of BIRD Bakery.
Don't miss out on the latest fab deals, cool freebies, fun giveaways, delicious recipes, DIY inspirations and more! Subscribe to the Hip Mama's Place email newsletter, Hip Mama's Place feed reader, or simply "Like" Hip Mama's Place on Facebook and/or follow Hip Mama's Place on Twitter!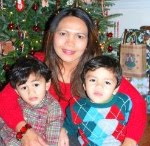 About the Author: Jocelyn Cañasa-Brown is a working mom of two boys and is a recognized blogger and mom influencer in the Washington, DC area. In her spare time, she designs and creates her own handmade jewelry, maintains her jewelry store on Etsy and is an active moms group organizer and leader both online and offline. Hip Mama's Place was nominated for Parents 2011 Best All-Around Mom Blog and named one of the Highest Rated Blogs and Sites on Nickelodeon ParentsConnect for the Washington, DC area. Follow Jocelyn on Twitter, Facebook and Pinterest.