I admit, I'm not the most organized grocery shopper. I don't always have a list of grocery items or coupons I need when I shop. Sometimes, when I run out of essential household or food items, I just go to my nearest Bloom grocery store (that recently got turned into a Food Lion) which is literally like a three minute drive from our house. I really like the fact that our Food Lion is so convenient to go to and that their prices are comparable to the bigger Safeway or Giant, which are a bit farther for me to drive to. I only go to those bigger stores when I need something specific that Food Lion doesn't carry, or when I go deal hunting with my coupons.
The Food Lion Store at 135 Junction Drive, Ashland, Virginia
Which is why, when I was asked to participate in a review of a remodeled Food Lion store, I didn't hesitate. I shop at Food Lion frequently and I already know what to expect from this store.
For this review, I went to the Food Lion store on 135 Junction Drive in Ashland, Virginia which was a bit of a drive for me. I didn't mind because 1. I enjoyed my grocery shopping trip there with my $150 Food Lion gift card that I was asked to spend however I like, 2. I was curious to know how this store will compare to my own local Food Lion store here in Woodbridge where I live and 3. I enjoyed browsing through the clean, well-organized and brightly lit aisles in this store.
The Grocery, Poultry and Fresh Seafood section
The Fresh Produce section
The Natural and Organic Food section
The Wines section
I was pleasantly surprised at how this Food Lion store is so much bigger than the one close to our house in Woodbridge. It is very clean and brightly-lit and each aisle is very well-organized that it's so easy to find the items you want!
So the first thing I did when I arrived at this store was to ask for the store manager to ask a few questions about the store. I was met with the Assistant Manager named Mike . At first, he didn't know why I was asking to take a few photos of the store and was hesitant about me writing a review of the store. He made a call to their corporate office to confirm my explanation and that was squared away pretty quickly. I promised myself the next time I do this, I will call the store manager first before I show up.
A Food Lion MVP Coupon Machine
While at the store, I checked out the store's weekly ads to see if there are current deals that I might want to grab. I did see one for my fave All Free laundry detergent that I got for only $2.99 after using a $1 off coupon from the MVP coupon machine. When I scanned my MVP Card at their coupon machine, it printed out a whole page of coupons. Good thing I just got my new MVP card from my local Food Lion last week and that came in handy! Those MVP coupon machines at Food Lion usually sit by the main entrance of the store so you are reminded to scan your MVP card before you start shopping. Very clever and a great way to save money with coupons!
With Food Lion's new brand strategy and store enhancements, I learned that they are making their stores easier to shop for their customers while offering the greatest value in store brands and providing a better selection of fresh produce. I truly believe they are keeping up with those promises when I did this recent shopping trip! I learned that Food Lion's own store brand My Essentials™ offers over 600 high quality items throughout the store, including fresh items like milk, eggs and bread, family favorites like cookies, chips and frozen pizza – and everything in between … with much lower prices than leading brands! Something to seriously consider if you and your family are on a budget.
At this Food Lion shopping trip, I was very happy and satisfied about how much stuff I got for under $100! Yes, I still have about $50+ leftover in my gift card after all these items! My husband was happy to see two new bottles of our fave wines! 🙂
My Food Lion shopping trip for just a little under $100!
I also bought my ingredients for this new recipe for Garlic-Lime Chicken that I want to make for dinner tomorrow. Yummm! (Photo and Recipe credits: McCormick)
Yours truly at the Fresh Produce section at Food Lion – 135 Junction Drive in Ashland, Virginia
All in all, I really enjoyed my shopping experience at the newly-enhanced Food Lion store. I enjoyed browsing through each aisle of this store and didn't even notice the total time I spent there (1.5 hours!). Most store employees were polite and greeted me with a smile and the usual "How are you doing?". I will definitely say something to the cashiers (if I was the store manager) because they were talking across each other (with me in the middle) and sort of gossiping the whole time my stuff was being rung up. I think it is not a practice of good customer service.
Anyway, to end on a brighter note, my most favorite section at this Food Lion store was the Fresh Produce and I smiled for the camera for the above photo! 🙂
*QUICK GIVEAWAY!


One of you, lucky Hip Mama's Place reader in the U.S., will win a $50 Food Lion gift card!
VERY IMPORTANT: You must be a follower of Hip Mama's Place on all three social networks: on Facebook, Twitter and Google Friend Connect to be eligible to enter the contest. Find the link to HMP's Google Friend Connect on the left side bar under "Our Hip Followers". Click the link to "Join This Site" that will take you to a page that will let you follow Hip Mama's Place "Publicly". Make sure you are logged on to your Google account in order to do this.
TO ENTER THE CONTEST:
Leave a comment on this post with your email address by May 20th, 2012 at 12MN, EST. THIS IS YOUR MANDATORY CONTEST ENTRY.
This contest is open to U.S. ADDRESSES ONLY. I will choose one winer using Random.org and will be announced as a comment on this post. The winner will also be notified by email and/or through a comment on their blog (if available).
*EXTRA ENTRIES for many chances to win! BE SURE TO ENTER A SEPARATE COMMENT FOR EACH EXTRA ENTRY YOU DO!
Your comment is your one required/mandatory entry. To earn extra entries, just do the following:
1. Tweet this giveaway daily on Twitter however you like, but include this URL page and hash tags anywhere in your Twitter update: @HipMamasPlace https://bit.ly/L7NvYm #food #deals #recipes #giveaways (EARN 1 EXTRA ENTRY FOR EACH TWEET THAT YOU DO DAILY)
EXAMPLE OF A TWEET:
I want to win A $50 Food Lion gift card @HipMamasPlace https://bit.ly/L7NvYm #food #deals #recipes #giveaways!
2. Join the Hip Mama's Place Community and EARN 2 EXTRA ENTRIES. You can earn 3 more extra entries by creating a new post or join in on the conversations on the "Forum" section of our mom community. (5 TOTAL EXTRA ENTRIES)
3. Grab one of Hip Mama's Place's buttons under the "Grab Our Fabulous Buttons" on the right hand side bar on our main page and paste it on an HTML page on your blog sidebar. (5 TOTAL EXTRA ENTRIES)
*PLEASE DO NOT CROSS-PROMOTE ANY OTHER GIVEAWAYS HAPPENING ON ANY OTHER BLOG OR WEBSITE. ANY SPAM COMMENTS WILL BE DELETED IMMEDIATELY.
Remember, the more entries you have, the greater chances of winning! Please make sure to leave a separate comment for each thing you do for your extra entries (i.e. your name on HMP Community name, Google Friend Connect, Facebook name, Twitter name and Twitter post links). Good luck!
Hip Mama's Place Disclosure: "I participated in a campaign on behalf of Mom Central for Food Lion. I received a gift card and product kit to facilitate my review."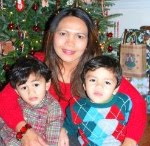 About the Author: Jocelyn Cañasa-Brown is a working mom of two boys and is a recognized blogger and mom influencer in the Washington, DC area. In her spare time, she designs and creates her own handmade jewelry, maintains her jewelry store with her own jewelry pos on Etsy and is an active moms group organizer and leader both online and offline. Hip Mama's Place was nominated for Parents 2011 Best All-Around Mom Blog and named one of the Highest Rated Blogs and Sites on Nickelodeon ParentsConnect for the Washington, DC area. Follow Jocelyn on Twitter and/or Facebook.