Since Valentine's Day is just a few days away, I thought I'd share some ideas on making this holiday sweeter and more meaningful. I hope I get to inspire you!
Are you baking for Valentine's Day? This roundup of Valentine's Day cookies is outstanding!
Make your own love elixirs to pour over your favorite foods or drinks like ice cream and cocktails, or drizzled over buttermilk vanilla bean cupcakes …. mmmm.. sure. 😉
These seven other ways to say "I Love You!" this Valentine's Day don't involve a dozen anything or an over-priced dinner reservation. Made me stop and ponder.

I will keep this inspiring quote close to my heart forever. I truly believe that you only need to impress yourself, never those around you.. and that people will stay in your life if they truly appreciate you and believe in you.

My four sisters and I used to play house all the time when we were young and we'd pretend we had real tea parties. Now as an adult, I think I need one of those real tea parties with the ladies. (Time to plan for one!) Thanks for the sweet idea, Colleen! 🙂

Red Velvet Hot Chocolate sounds so yummy!
I want to someday arrange fresh flowers like this for my Valentine's Day table…

Have you written a haiku lately? Write one for your sweetie on Valentine's Day. You can start here.


However you're celebrating Valentine's Day, whether you're single, coupled or complicated, remember that this holiday is about spreading love, showing gratitude and appreciation to all those people who've touched your life, and feeling good.
I wish you all a meaningful, love-filled Valentine's Day, my dearest friends! We are going to have 8-12 inches of snow possibly starting tomorrow night so DH made sure we have enough firewood, food and wine in case we get stuck in the house in the next 3-4 days. Be safe! 🙂
Love always,
Jocelyn
Don't miss out on the latest fab deals, cool freebies, fun giveaways, delicious recipes, DIY inspirations and more! Subscribe to the Hip Mama's Place email newsletter, Hip Mama's Place feed reader, or simply "Like" Hip Mama's Place on Facebook and/or follow Hip Mama's Place on Twitter!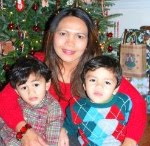 About the Author: Jocelyn Cañasa-Brown is a working mom of two boys and is a recognized blogger and mom influencer in the Washington, DC area. In her spare time, she designs and creates her own handmade jewelry, maintains her jewelry store on Etsy and is an active moms group organizer and leader both online and offline. Hip Mama's Place was nominated for Parents 2011 Best All-Around Mom Blog and named one of the Highest Rated Blogs and Sites on Nickelodeon ParentsConnect for the Washington, DC area. Follow Jocelyn on Twitter, Facebook and Pinterest.