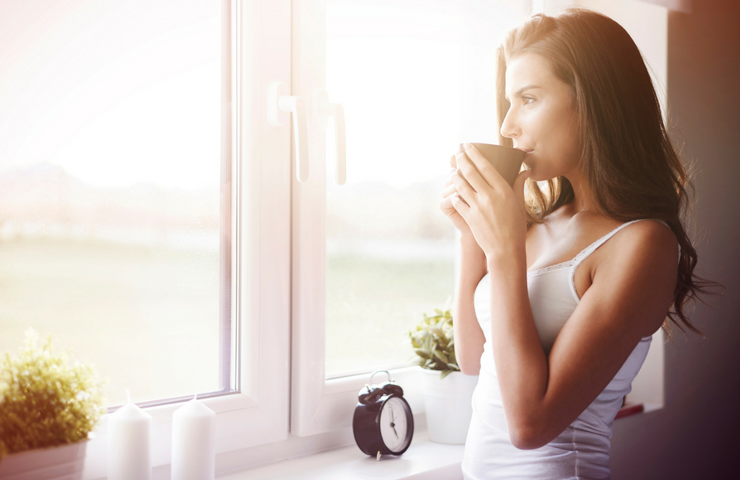 In as little as 20 minutes or less each morning, you can try your best to live a healthier and even happier life by simply starting a morning routine. You are the only one that can determine if one habit is better for you than another, so give a few a try until you find the one or several that work best for your lifestyle. But getting started is usually the hardest part… why not just start tomorrow?
Mindfulness. Take a moment and try to be mindful and stay in the current moment. Our minds tend to want to wake up and start speeding like a freight train. Try to slow it down and take five minutes to just be present. Look around your room and take it all in or find something in particular to look at and admire it. This is also a good time to look out the window and gaze outside for a few moments.

Meditate. This can be a hard practice to begin. But only a few minutes a day can make a huge difference on how you feel the rest overall. Get into comfortable position and either close your eyes or fixate on an object. Simply relax, breathe in and out, and for only several minutes in the morning, try to erase your thoughts. If they start to pop into your mind, recognize them and then move on.

Journal. Writing things down in your journal at the beginning of your day can put things into perspective for you before you even begin the to-do list. Jot down your thoughts and anything that has been on your mind lately and try to just let it go for that moment. Journaling is one of my top favorite ways to practice mindfulness each day and that's why I wrote why journaling is good for your mind. If you make it a daily practice, especially if it becomes a part of your morning routine, chances are, your day will be a lot less stressful.

Yoga. Even if you haven't been a fan of trying yoga, now may be the time to give it a whirl. Get a video, a book, or even now there are many apps that can guide you through a beginner's routine of some basic yoga stretches. This in itself can get you motivated to get moving in the morning and release endorphins as well.

Read. If reading at night puts you right to sleep (this is a good thing!), then read a little bit in the morning before you join the hustle and bustle of the day. Pick up one of the many inspirational books out there that include true stories of hope and bravery or even one with beautiful quotes about life and love. These are sure to inspire your day.

Dance. Not only can a good dance song get you moving and ready to hit the shower even before you reach for your morning coffee, but you can keep the momentum going all day long. Make an upbeat playlist and keep the tunes handy for those moments in the day when you are feeling a little blah or sluggish.

Breakfast. Mornings routines are made for a healthy breakfast and not a to-go mug of coffee in the car for your commute. So, skip the bagel on your lap too and make time for something healthy. If you need to, get up a little earlier and make the time you need for you. A high protein, low carb breakfast is very important to give you the necessary energy for your day.

Prepare. With great gadgets like the programmable coffee maker and apps that help wake you and even can sense when to get you out of bed (try Sleep Cycle), there is no excuse to be more prepared for your morning routine. Pack your lunch, your afterwork gym bag, and even anything you may need for the kids' after school activities.

Breathe. One of the best ways to start your day is to take a few minutes and practice a breathing exercise. One of the easiest is a "4-7-8" breathing technique. Start by breathing in deeply for a count of 4, then exhale and count to 7, followed by an inhale of 8. Repeat several times and then get on with the rest of your morning. If you do this everyday, it will get easier and add it to your meditation time too.

Set an intention for your day.

Create the kind of day you want by setting an intention. Each morning, choose an intention to guide your thoughts and actions for the day. For example, your intention could be: to relax and enjoy simple pleasures; to be more kind to others; to have more fun; or whatever it is that you want to manifest in your life for that day.
It just takes some practice and a little extra time to get a morning routine down pat. If you want to start your day more peaceful, relaxed and focused on what ever it is you'll be doing, try some or all of these great ideas to do just that.
You Might Also Like…