Calling all fashionistas who love creating style boards!
Wendy's is celebrating National Salad Month and is hosting its third #NewSaladCollection contest (in partnership with fashion website Polyvore) where youwill be entered for a chance to win a "Fashion 411" phone call with actress and style icon Molly Sims plus a $1,000 grand prize.

Consumers will have seven days to create their salad-inspired looks based on the high-end ingredients in Wendy's #NewSaladCollection, such as fire-roasted edamame, spicy roasted cashews and fire-roasted sweet corn.

For more information about Wendy's Asian Cashew Chicken and BBQ Ranch Chicken salads, visit www.wendys.com or go here for the contest details.
Don't miss out on the latest fab deals, cool freebies, fun giveaways, delicious recipes, DIY inspirations and more! Subscribe to the Hip Mama's Place email newsletter, Hip Mama's Place feed reader, or simply "Like" Hip Mama's Place on Facebook and/or follow Hip Mama's Place on Twitter!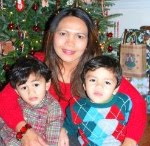 About the Author: Jocelyn Cañasa-Brown is a working mom of two boys and is a recognized blogger and mom influencer in the Washington, DC area. In her spare time, she designs and creates her own handmade jewelry, maintains her jewelry store on Etsy and is an active moms group organizer and leader both online and offline. Hip Mama's Place was nominated for Parents 2011 Best All-Around Mom Blog and named one of the Highest Rated Blogs and Sites on Nickelodeon ParentsConnect for the Washington, DC area. Follow Jocelyn on Twitter, Facebook and Pinterest.