The carefree days of summer has come to an end, and as we ease into our new back-to-school routine, one thing that can get challenging is adjusting to a new sleep schedule. Children are most affected by a lack of sleep. According to Dr. Carol Ash, director of sleep medicine at Meridian Health, *kids need more sleep than adults, so it's recommended they slumber for 9-10 hours per night, compared to 7-8 hours for grown-ups.
To help kids get back into a school routine, Dr. Ash offered these tips:
Adjust bedtime by 15 minutes per night – this will gradually get them closer to their ideal sleep schedule. Make it a family effort.
Enforce an electronics curfew – it takes children an hour to wind down to sleep, but most now have smartphones and other gadgets that allow them to text or play games late at night. Try to have them unplug at least an hour before bed.
Apply the 4-7-8 breathing technique – to help the body relax, tell your child to breathe in for a count of four, then hold for a count of seven and release for a count of eight. Repeat four times before going to bed (and do the same in the morning).
Add fun to bedtime – read a book and create an environment that kids want to go to at night. Fun touches can include hand-painted light bulbs or glow-in-the-dark paint, which can be used to write secret messages your children will see when the lights go out.
And to help you and your kids get a restful sleep every night, Novosbed.com, the risk-free memory foam company, has just what you need with quality products like a silk duvet and memory foam pillows. Kids absolutely adore pillows as it creates a soft and gentle sleeping environment. It should come as no surprise to hear that this Seal plush has been a favourite of children for a long time.
A silk duvet from Novosbed.com starts at $199 and is made of 100% Mulberry silk. The silk is hypoallergenic and great for those with allergies to feathers & down comforters but who want the luxury of a natural fiber filling.
We were sent a queen size Mulberry Silk Duvet for our review and we were very impressed with the design and softness of this duvet! It's got a luxurious, 100% cotton 300-thread count cover and quilted pattern, which protects the silk filling from shifting or bunching. My kids love snuggling in our bed with this super soft, comfortably warm duvet too – especially my seven year old son Jaden, who loves soft blankets of any kind! This silk duvet definitely did not disappoint. 🙂
Novosbed.com also offers the softest pillows that come with a zero-risk guarantee and are comparable to Tempur-Pedic quality memory foam pillows without the higher price tag! Plus a big bonus, their products are all made in the USA! 🙂
Opus Pillow – ($139) – perfect for side, stomach, and back sleepers!
Novosbed.com also has free two-way shipping and a 3-year warranty for all mattresses-ensuring your student is going to get a good night's sleep for many years to come! For more on Novosbed products, visit their website at: www.novosbed.com. Right now, they are offering 2 free pillows with any Queen or King Mattress purchase! Some say, it's one of the best memory foam mattress for the money? Could they be right?
Hip Mama's Place Disclosure:
"My reviews and opinions are 100% my own. Novosbed sent me a promotional product necessary to facilitate my review".
Don't miss out on the latest fab deals, cool freebies, fun giveaways, delicious recipes, DIY inspirations and more! Subscribe to the Hip Mama's Place email newsletter, Hip Mama's Place feed reader, or simply "Like" Hip Mama's Place on Facebook and/or follow Hip Mama's Place on Twitter!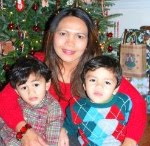 About the Author: Jocelyn Cañasa-Brown is a working mom of two boys and is a recognized blogger and mom influencer in the Washington, DC area. In her spare time, she designs and creates her own handmade jewelry, maintains her jewelry store on

Etsy

and is an active moms group organizer and leader both online and offline. Hip Mama's Place was nominated for Parents 2011 Best All-Around Mom Blog and named one of the

Highest Rated Blogs and Sites

on Nickelodeon ParentsConnect for the Washington, DC area. Follow Jocelyn on

Twitter

,

Facebook

and Pinteres
t.