As an Olympic figure skating superstar, Kristi Yamaguchi knows about dreaming big. The motto "Always Dream" serves as Kristi's personal inspiration and this philosophy has contributed to Kristi's success on and off the ice.


In her new children's picture book, Dream Big, Little Pig!, Kristi inspires young ones to follow their dreams and not be discouraged even when they fail.
Book Synopsis:
Poppy the Pig has big dreams—lots of them! But following her dreams isn't always easy, and whenever Poppy thinks it might be time to give up, her family reminds her to "Dream Big!" While on a "pig's day out," she has so much fun ice skating that she doesn't even notice those around her who think pigs can't skate…and without even knowing it, she achieves her dream while doing something she loves! In this funny and inspiring tale that's perfect for family read-alouds, Poppy realizes she can succeed at anything as long as she believes in herself and has fun doing it!
I read this to my boys and even though my five year old commented that it's "only for girls!", the book has a fantastic story and they were entertained with the funny characters. It reminded me of the cliché, "Try and try until you succeed". This book teaches young children to try new things, to keep believing in themselves and to keep trying until they find something they love to do.
Highly recommended for kids ages 4-8. Now available at Amazon and at your leading book retailers.



*BOOK GIVEAWAY!
One of you, lucky Hip Mama's Place reader, will win a copy of the book Dream Big, Little Pig by Kristi Yamaguchi!
To enter the contest, leave a comment on this post by March 25th, 2011 at 12MN, EST. THIS IS YOUR MANDATORY CONTEST ENTRY.
This contest is open to U.S. ADDRESSES ONLY. Please leave your email address (if you don't have a blog). I will choose one (1) winner using Random.org and will be announced as a comment on this post. The winner will also be notified by email and/or through a comment on their blog (if available).
*IMPORTANT: PLEASE DO NOT CROSS-PROMOTE ANY OTHER GIVEAWAYS HAPPENING ON ANY OTHER BLOG OR WEBSITE. ANY SPAM COMMENTS WILL BE DELETED IMMEDIATELY.
*EXTRA ENTRIES for many chances to win!
Your comment is your one required/mandatory entry. To earn extra entries, just do the following:
1. Tweet this giveaway on Twitter however you like, but include this URL page and hash tags at the end of your comment: @HipMamasPlace http://bit.ly/dOw5XX #book #parents #giveaways (5 EXTRA ENTRIES)
Example:



I want to win the Dream Big, Little Pig book giveaway @HipMamasPlace! http://bit.ly/dOw5XX #book #parents #giveaways
2. Like or Become a fan of Hip Mama's Place on Facebook and post a comment on our wall and tell me why you like visiting Hip Mama's Place or reply to the latest post on our wall (3 EXTRA ENTRIES)
3. Follow Hip Mama's Place on Twitter (3 EXTRA ENTRIES)
4. Follow me or friend me on Google Friend Connect (link is under "Our Hip Followers" on the left side bar) (3 EXTRA ENTRIES)
5. Join the Hip Mama's Place Community and EARN 2 EXTRA ENTRIES. You can earn 3 more extra entries by creating a new post or join in on the conversations on the "Forum" section of our mom community. (5 TOTAL EXTRA ENTRIES)
6. Grab one of Hip Mama's Place's buttons under the "Grab Our Fabulous Buttons" on the right hand side bar on our main page and paste it on an HTML page on your blog sidebar. (5 EXTRA ENTRIES)
Remember, the more entries you have, the greater chances of winning! Please make sure to leave a separate comment for each thing you do for your extra entries (i.e. your name on HMP Community name, Google Friend Connect, Facebook name, Twitter name and post links, etcetera). Good luck!
*Hip Mama's Place Disclosure: "My reviews and opinions are 100% my own. Sourcebooks provided me copies of the book mentioned on this post to facilitate this review and giveaway".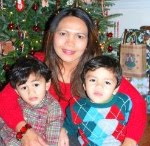 About the Author: Jocelyn Cañasa-Brown is a working mom of two boys and is a recognized blogger and mom influencer in the Washington, DC area. In her spare time, she designs and creates her own handmade jewelry, maintains her jewelry store on Etsy and is an active moms group organizer and leader both online and offline. Hip Mama's Place was nominated for Parents' Picks 2010 Best Parenting Blogs and named one of the Highest Rated Blogs and Sites on Nickelodeon ParentsConnect for the Washington, DC area. Follow Jocelyn on Twitter and/or Facebook.