I absolutely LOVE jeans. Whether it's a day out running errands, meeting mom friends for play dates or a special night out on the town with my honey, I always have my "go-to", great-looking pair of jeans. 🙂
Since jeans work with everything in my closet — fashion tops, sweaters, t-shirts and tank tops — I am always on the lookout for a new pair of jeans whenever I go clothes-shopping.


So I was very thrilled when I received an invite to an exclusive press preview of 7 For All Mankind's current Spring/Summer 2010, as well as a sneak peek of their Fall 2010 men's, women's and accessories collections held last May 4th, 2010 at the Tysons Galleria Mall.
Here with the very personable 7 For All Mankind PR Manager, Ryan D.
I'm sure you've all heard about the 7 For All Mankind brand before. This world premiere, Los Angeles-based brand of clothing and accessories can be found mentioned in numerous fashion magazines and worn by hot Hollywood celebrities. 7 For All Mankind is a multi-category brand that features fashion-forward denim, sportswear and accessories for men and women.


Me checking out the chic shoe collection at the 7 For All Mankind Tysons Galleria Boutique
For the Women's Spring and Summer 2010, expect a collection inspired by the eclectic wardrobe and luxe lifestyle of an "Ethereal Gypsy". The use of Mixed Fabrics definitely defines the season with the light, easy, airy mood it creates. Think buttery, destroyed denim jeans paired with a crochet, printed lace, or floral print top.
Then there's the Peek-A-Boo & Repair concept- ripped and destroyed denim to expose studs, contrasting fabrics, or crystals to bring the easy, laid-back style to a whole new level.
Like this Straight Leg Jeans With Peekaboo Sequins in Hazine– my top personal pick in this collection. I feel and look like a million bucks wearing this pair of stylish 7FAM jeans! What drew me immediately to this style is the peekaboo glittery sequins detailing in the back pocket. It blends well with 7 For All Mankind's signature squiggle. Plus, I like the straight leg fit of these jeans which I think hugs my figure well and really looks great with any of my current fave shirts for Spring. Excuse the photo, by the way. (It's the best one we could get with my two small boys running around the house while we took the photos, lol).
For those who prefer stretchy, comfortable fabrics, the "Second Skin" silhouettes feature denim styles that wear like a legging but still retains the construction and visual characteristics of true denim. Check out the Gwenevere with Paneling Detail and you'll see what I mean. Also check out their skirts and shorts, which features peek-a-boo prints, crystal embellishments and colorful repair stitches.
I got to check out the 7 For All Mankind accessories too while I was at the Press Preview event.
I love the strappy, sexy 4 inch leather heeled Farran shoes in Cabernet and Navy…
…and the mosaic-inspired Reseda sunglasses in Blue- so hip and trendy and would both go well with my new 7FAM peek-a-boo sequined jeans… what d'ya all think? 🙂
Aaahh…I could ramble on and on with all the great stuff I saw at the Press Preview but…
Anyway, watch for the coming of this Fall's 7 For All Mankind Women's Collection and expect a novelty of bold and subtle styles with blue and black denim, elements of black leather, menswear-inspired tailor pieces, stretch twill and corduroy bottoms and military-inspired outerwear.
And don't forget to check out the 7 For All Mankind Men's Collection as well. They got the coolest jackets and denim jeans for men that I've seen. But this post is too long, so I will try and cover it on a separate post. Promise! 🙂
*Hip Mama's Place Disclosure: "The opinions I am sharing remain my own. I received a pair of jeans as well as a store discount card from 7 For All Mankind to facilitate this review".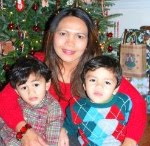 About the Author: Jocelyn Duncan is a working mom of two boys and is a recognized blogger and mom influencer in the Washington, DC area. In her spare time, she designs and creates her own handmade jewelry, maintains her jewelry store on Etsy and is an active moms group organizer and leader both online and offline. Follow Jocelyn on Twitter and/or Facebook.