Sound the alarm! Everyone's favorite bendy-tailed hero Wubbzy comes to the rescue in "Wubbzy And The Fire Engine," the latest "Wow! Wow! Wubbzy!" DVD from Anchor Bay Entertainment. Featuring Wubbzy and his pals from the Emmy Award®-winning Nick Jr.®, "Wubbzy And The Fire Engine" was released last September 13th, 2011 in time to celebrate National Fire Prevention Week that started on October 9.


My kids are huge Wubbzy and friends fans and with fire engines and firefighters in this DVD — all the more fun! My kids love anything to do with fire trucks, fire engines and firemen suits. Here's a photo of my four year old Jaden from one of our play dates with a friend taken last summer, all dressed up in a fireman suit. Too cute! 🙂


My six year old Gabriel really loved the "Ty Ty The Tool Guy" episode in this DVD and since he's really an expert on the DVD remote now, he pauses it on the parts of the movie where Ty Ty, Wubbzy and friends talk with their funny faces.


Gabriel really loves to laugh a lot and the funniest thing is that every time he wants to laugh at something on tv, he makes me stop what I do and says, "Mommy, watch this! Isn't that funny? Hahahaa!!!" And then he wants me to laugh along with him too. My too funny, adorable son! Pictured here in his cowboy costume at their school costume parade just this past Halloween. 🙂
Synopsis:
Wubbzy and his best buddies, Widget, Walden and Daizy, suit up for six memorable stories in "Wubbzy And The Fire Engine" ($16.98). This latest release whisks preschoolers along as Wubbzy has a fire engine adventure with Widget in "Wubbzy And The Fire Engine"; delivers Daizy's doodleberry treats – the Wubbzy way – in "What Would Wubbzy Do?" and helps rebuild a neighbor's house with a little help from a pro in "Ty Ty The Tool Guy," featuring the voice of Ty Pennington, host of the popular TV series "Extreme Home Makeover."
Additional episodes include "Mr. Unlucky," in which Wubbzy realizes he's a pretty lucky guy after all; "Wuzzleburg Express," where Walden uses quick-thinking to save the day from a runaway train; and "Hangin' With Mr. Gummy," which reminds preschoolers that fun comes in many different forms!
About Wubbzy:
"Wow! Wow! Wubbzy!" has been a hit with young viewers and their families since its 2006 TV premiere on Nickelodeon®, and the show currently airs daily on Nick Jr. Wubbzy is a fun, lovable, curious little guy who just likes to play, play, play with his friends in the eye-popping town of Wuzzleburg. The top-rated series supports preschool social skills – sharing, listening, compromising, helping and appreciating others, self-awareness and the use of humor as a coping skill.
Although their world is more fanciful and imaginative than our own, Wubbzy and his friends deal with the same social and developmental issues faced by preschoolers. They learn how they fit into a group, how to understand their own feelings and those of others, how to get along with one another and the value of friendship and community.
"Wow! Wow! Wubbzy!" is produced by Bolder Media, Inc. in association with Starz Media's Film Roman Animation Studio. It is a worldwide hit that is broadcast in 60+ countries. Susan Miller (co-producer of Ella Enchanted) and Fred Seibert (executive producer of "The FairlyOdd Parents") are the executive producers of the show created by Emmy Award® winner Bob Boyle (producer of "The FairlyOdd Parents").
"Wubbzy And The Fire Engine" DVD is now available at your leading movie retailers or at Amazon.com, now on sale for $8.99!
*WIN IT!
One of you, lucky Hip Mama's Place reader, will win a copy of this fun DVD, Wow! Wow! Wubbzy! "Wubbzy And The Fire Engine"!
VERY IMPORTANT: You must be a follower of Hip Mama's Place on all three social networks: on Facebook, Twitter and Google Friend Connect, to be eligible to enter the contest. Find the link to HMP's Google Friend Connect on the left side bar under "Our Hip Followers". Click the link to "Join This Site" that will take you to a page that will let you follow Hip Mama's Place "Publicly". Make sure you are logged on to your Google account in order to do this.
TO ENTER THE CONTEST: leave a comment on this post with your email address (to contact you if you win) and the name or names you use on Facebook, Twitter and Google Friend Connect to check if you've followed Hip Mama's Place. THIS IS YOUR MANDATORY CONTEST ENTRY.
This contest is open to U.S. ADDRESSES ONLY and is open for entries until November 24th, 2011 at 12MN, EST. Please leave your email address (if you don't have a blog). I will choose ONE (1) WINNER using Random.org and will be announced as a comment on this post. The winner will also be notified by email and/or through a comment on their blog (if available).
*EXTRA ENTRIES for many chances to win! BE SURE TO ENTER A SEPARATE COMMENT FOR EACH EXTRA ENTRY YOU DO!
Your comment is your one required/mandatory entry. To earn extra entries, just do the following:
1. Tweet this giveaway daily on Twitter however you like, but include this URL page and hash tags anywhere in your Twitter update: @HipMamasPlace @WWWubbzy http://bit.ly/rWTJOP #movies #giveaways (1 EXTRA ENTRY FOR EACH TWEET THAT YOU DO DAILY)
EXAMPLE OF A TWEET:
I want to win a Wubbzy And The Fire Engine DVD @HipMamasPlace @WWWubbzy http://bit.ly/rWTJOP #movies #giveaways!
2. Join the Hip Mama's Place Community and EARN 2 EXTRA ENTRIES. You can earn 3 more extra entries by creating a new post or join in on the conversations on the "Forum" section of our mom community. (5 TOTAL EXTRA ENTRIES)
3. Grab one of Hip Mama's Place's buttons under the "Grab Our Fabulous Buttons" on the right hand side bar on our main page and paste it on an HTML page on your blog sidebar. (5 EXTRA ENTRIES)
*PLEASE DO NOT CROSS-PROMOTE ANY OTHER GIVEAWAYS HAPPENING ON ANY OTHER BLOG OR WEBSITE. ANY SPAM COMMENTS WILL BE DELETED IMMEDIATELY.
Remember, the more entries you have, the greater chances of winning! Please make sure to leave a separate comment for each thing you do for your extra entries (i.e. your name on HMP Community name, Google Friend Connect, Facebook name, Twitter name and Twitter post links). Good luck!
*Hip Mama's Place Disclosure: "My reviews and opinions are 100% my own. Anchor Bay Entertainment sent me a copy of the "Wubbzy And The Fire Engine" DVD to try and to facilitate my review and giveaway."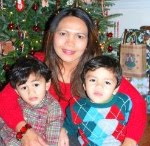 About the Author: Jocelyn Cañasa-Brown is a working mom of two boys and is a recognized blogger and mom influencer in the Washington, DC area. In her spare time, she designs and creates her own handmade jewelry, maintains her jewelry store on Artfire and is an active moms group organizer and leader both online and offline. Hip Mama's Place was nominated for Parents 2011 Best All-Around Mom Blog and named one of the Highest Rated Blogs and Sites on Nickelodeon ParentsConnect for the Washington, DC area. Follow Jocelyn on Twitter and/or Facebook.