The experts at HGTV Magazine reveal common household items that might be getting neglected in the cleanliness department. Here are a few helpful tips on how and when to clean your hair brushes, pillows, coffee makers, produce bins in your fridge, etc. The answers may surprise you!
*Your hairbrush: Beauty experts recommend washing your hair brush every two months. First pull out all stray hairs with a comb. Fill a sink with warm water and a squirt of soap or mild shampoo, and soak your brush for 15 minutes. (If your brush has padding, boar bristles, or a wooden handle, swish it back and forth in the sink and then rinse to prevent the brush getting waterlogged.
*The inside of your coffee machine: Clean your machine after every dozen brews. Insert a coffee filter and fill the reservoir with two parts white vinegar and one part water, and run the machine through one full cycle. Then, repeat the process twice with cold water and filters.
*The produce bins in your fridge: Scrub your bins every few months to keep produce flavors fresh. Empty the drawers and remove them from the fridge. Dip a cloth in a mixture of 4 tablespoons baking soda and 1 quart warm water, then wipe down the inside and outside of each bin. Avoid household cleaners, which can make food taste like chemicals. Be sure to rinse the bins in warm water before returning to the fridge.


For more ideas for your home and beyond, check out HGTV Magazine. The Jan/Feb 2012 issue is hitting newsstands nationwide on January 17th!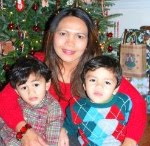 About the Author: Jocelyn Cañasa-Brown is a working mom of two boys and is a recognized blogger and mom influencer in the Washington, DC area. In her spare time, she designs and creates her own handmade jewelry, maintains her jewelry store on Artfire and is an active moms group organizer and leader both online and offline. Hip Mama's Place was nominated for Parents 2011 Best All-Around Mom Blog and named one of the Highest Rated Blogs and Sites on Nickelodeon ParentsConnect for the Washington, DC area. Follow Jocelyn on Twitter and/or Facebook.