My family takes oral health seriously. We want to make sure they're as clean (and as white) as possible because then we'll have better health and no risk of toothache or pricy dentist visits. In fact, the most we've spent on our teeth is when my husband wanted to get his straightened. He was able to get a practically invisible orthodontic treatment to align (or アライン) his teeth – it only took 6 months and it was much cheaper than getting braces!
But just because we look after our teeth doesn't mean every family does. According to the American Academy of Pediatrics, tooth decay is more prevalent than both asthma and hay fever in children. In fact, more than 40 percent of children have tooth decay by kindergarten age, which is why brushing teeth for kids is so important. (Source: WebMD)
As a busy mother of three, it can sometimes be a challenge to keep up with my kids' routines. But I do know the importance of brushing teeth regularly as part of achieving overall good health and incorporating that into my kids' daily routines. Of course, regular checkups with their dentist contributes to bettering their oral health too. I believe that down the road, what they learn now at a young age will develop into long-term habits that they will carry with them throughout their adulthood.
I have my kids brush their teeth right before breakfast and right before bed time and sometimes we use Listerine mouthwash in conjunction with teeth brushing. Flossing? Now that is one big challenge for me.
That's why I'm so glad Mom Central chose my family to participate in the Listerine Oral Care Challenge! In the next few days, we will be receiving a special Listerine and Reach oral care kit complete with an assortment of adult and children's oral care products (toothbrushes, floss and mouthwash) that will help me and my children adopt a complete regimen of brushing, flossing and rinsing every day. Wow, just what I need! (Thanks, Mom Central!)
To complete this challenge, I will have my kids and myself brush, floss and rinse our mouths every day, twice a day for two weeks. I am really hopeful that with this oral care challenge, it will improve my kids' habits to floss and rinse their mouths regularly – minus the stress!
To learn more about Listerine products to help you and your family achieve better oral health, go to Listerine.com today. I also found a nice $1.50 LISTERINE® SMART RINSE® Anticavity Fluoride Rinse Printable Coupon to try this new Listerine product out for yourself. Enjoy! 🙂
Hip Mama's Place Disclosure: "I wrote this review while participating in a blog tour by Mom Central Consulting on behalf of Listerine and received product samples to facilitate my review and a promotional item to thank me for taking the time to participate."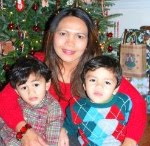 About the Author: Jocelyn Cañasa-Brown is a working mom of two boys and is a recognized blogger and mom influencer in the Washington, DC area. In her spare time, she designs and creates her own handmade jewelry, maintains her jewelry store on Artfire and is an active moms group organizer and leader both online and offline. Hip Mama's Place was nominated for Parents 2011 Best All-Around Mom Blog and named one of the Highest Rated Blogs and Sites on Nickelodeon ParentsConnect for the Washington, DC area. Follow Jocelyn on Twitter and/or Facebook.