Feel sexy and confident this Valentine's Day with these three fitness tips from Shana Schneider, fitness expert and Founder of FITWEEK.
1. Do chest exercises for a natural bust lift: This is an exercise that you can do at home or in the office. Grab a towel or a scarf (something that does not have give). Hold it in both hands with your arms at shoulder height and straight out in front of you. Simultaneously, with your left hand, pull to the left and with the right, pull right. Pulse like this for one minute. Do at least three sets.
2. Buy yourself body flattering workout wear: When you have that perfect little black dress, you can't wait to put it on. Well, I find that the same goes for workout wear. So, put away those slouchy sweat pants and stained t-shirt and put on that slim fitting zip
-up and sexy sports bra. When you know you look good, you walk around with more confidence. Plus, once you have your exercise clothes on you're, much more inclined to actually workout!
3. Take an 'alternative' fitness class: Do something that will make you feel sexy. Go join a zumba fitness class, Pole dancing class, belly dancing class or even a striptease class. These classes will give you a seriously good workout, too!
Another option:
This Valentine's Day make a date with friends to take a super, sexy fitness class. There are quite a few to choose from including:
Pole Dancing
Aerial aerobics class
Belly dancing
Striptease class
Burlesque workout
Cabaret barre class
Find one that fits your level of comfort. You may even learn a routine you can use outside the fitness studio!
Don't miss out on the latest fab deals, cool freebies, high value coupons, fun giveaways, sweepstakes and more! Subscribe to the Hip Mama's Place email newsletter, Hip Mama's Place feed reader, or simply "Like" Hip Mama's Place on Facebook and/or follow Hip Mama's Place on Twitter!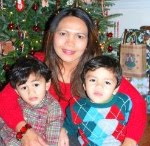 About the Author: Jocelyn Cañasa-Brown is a working mom of two boys and is a recognized blogger and mom influencer in the Washington, DC area. In her spare time, she designs and creates her own handmade jewelry, maintains her jewelry store on Etsy and is an active moms group organizer and leader both online and offline. Hip Mama's Place was nominated for Parents 2011 Best All-Around Mom Blog and named one of the Highest Rated Blogs and Sites on Nickelodeon ParentsConnect for the Washington, DC area. Follow Jocelyn on Twitter, Facebook and Pinterest.