Thank God for a wonderful, early start to the day. Hmmm, actually.. way too early for a start to the day.
I woke up at 5:00 A.M. today. That's just way too early, isn't it? I know a lot of people are natural-born early risers. LOL, I'm not. But you know how when you have so much going on and you're half sleeping. Your eyes are closed tight and yet, your mind is fully awake? Soon as I decided I'm not really sleeping anymore this morning, I glanced at the alarm clock by the bedside and saw that it was only 3:40 A.M. Ugh. Way too early! So I tried to go back to sleep. But I just kept tossing and turning in bed. I didn't want to wake Dan up. Too bad for my sweety. He's going to have a long day ahead of him at work today.
So… here I am… posting on my blog at 5:34 A.M. I guess it's a good thing. Last week, I was crazy mad busy with errands and projects for my upcoming wedding. I was trying not to be a complete spazz but last week was one of those. I was way too occupied to even post for my Tuesday Giveaway Roundup here last week. I apologize.
But, here we are again on another Tuesday. I will stop my rambling now. Please go ahead link up your giveaways. I hope I won't be too tired today. Yup. I woke up too early and my day is already planned. I gotta clean my car. I gotta go to Macy's for pretty things for my big day. I gotta do more laundry. I gotta return emails. I gotta make phone calls. I gotta.. ahhh… too many to mention. WAIT. Did I just say I'll stop rambling? 🙂
Anyway, you all have a fantastic Tuesday! While you're here, please don't forget to scroll up to the very top page and find the links to my fabulous giveaways and help support my sponsors. Thanks a million for stopping by! Beautiful comments are always very much appreciated. 🙂
Thought for the Week:
"Imagination is the beginning of creation. You imagine what you desire, you will what you imagine and at last you create what you will."
~ George Bernard Shaw (Irish literary Critic, Playwright and Essayist, 1925 Nobel Prize for Literature, 1856-1950)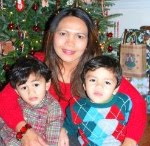 About the Author: Jocelyn Duncan is a working mom of two boys and is a recognized blogger and mom influencer in the Washington, DC area. In her spare time, she designs and creates her own handmade jewelry, maintains her jewelry store on Etsy and is an active moms group organizer and leader both online and offline. Hip Mama's Place was nominated for Parents' Picks 2010 Best Parenting Blogs and named one of the Highest Rated Blogs and Sites on Nickelodeon ParentsConnect for the Washington, DC area. Follow Jocelyn on Twitter and/or Facebook.