Thank you for stopping by Hip Mama's Place. It's Tuesday once again and I'm always excited to bring you all the Tuesday Giveaway Roundup where we can all share our fantastic giveaways by linking them up here! 🙂
Hope you're all having a great start to the week. It's still really hot here in Washington DC and it's suppose to stay that way all this week. Ugh. I do love summer, but at the same time I can't wait for the cooler Fall weather already.
My wedding day is coming up really, really soon too (September 25th!) and I am in that stage of taking care of those last details. Thank God! I'm a semi-DIY bride and have a few details in my wedding that are handmade by me. Will share them all to you later. So that said, pardon the slowness on the blog and responding to emails.
Anyway, please go ahead link up your giveaways below. A comment after linking is always appreciated.
Thought for the week:



"All you need is love. But a little chocolate now and then doesn't hurt."

~Charles M. Schulz (American cartoonist, 1922-2000)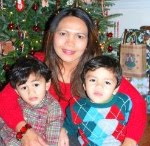 About the Author: Jocelyn Duncan is a working mom of two boys and is a recognized blogger and mom influencer in the Washington, DC area. In her spare time, she designs and creates her own handmade jewelry, maintains her jewelry store on Etsy and is an active moms group organizer and leader both online and offline. Follow Jocelyn on Twitter and/or Facebook.