My husband and I were just talking about how winter was so long this year that it seems hard to believe we are now starting to enjoy Spring – warmer weather and greener surroundings! Have you started enjoying the Spring weather where you are too?
Around this time of year, we also think of sweet treats to fill Easter baskets such as chocolate bunnies, jelly beans, marshmallow chicks and candy eggs that come in all shapes, sizes and fillings. For our family, we like baking cupcakes and make bunny-inspired treats and crafts for this fun holiday!
This year, if you're up to trying out something new and ethnic for the Easter holiday, here's a recipe passed to me by Kontos Foods– a delicious Easter bread called Tsoureki. A braided yeast bread, Tsoureki is known for the decorative red eggs that are baked right into the loaf. The red eggs, a Greek tradition, represent the blood of Christ.
Tsoureki Easter Bread
Ingredients:
2 pkgs. yeast
¼ cup sugar
Flour (follow below instruction)
2 cups warm water
1 tsp. salt
¼ cup oil
2 eggs beaten
Couple/few colored hard-boiled eggs

Directions:
Dissolve yeast and sugar in warm water. Add enough flour to mix to heavy batter. Add salt, oil and all but 2 teaspoons of beaten eggs. Add enough flour to make a firm dough. Knead for 5 minutes.
Cut dough in half, and each half into thirds. Make 3 long ropes and braid. Bend braid into a tight straight, or circle, loaf.
Let dough rise for 45 minutes. Use remaining 2 teaspoons of egg to brush on dough.
To decorate your bread, gently press a red, or other color, egg into the center of your loaf.
Bake at 400 degrees for 35 minutes.
*For a colorful variation on this tradition, you can also bake multicolored eggs into your braided bread.
For more Mediterranean-inspired recipes like this and more, or to learn more about food products by Kontos Foods, visit www.kontos.com or www.Flatbread.com. You can also find Kontos Foods on Twitter@KontosFoods or on Facebook at www.facebook/KontosFoods

Don't miss out on the latest fab deals, cool freebies, fun giveaways, delicious recipes, DIY inspirations and more! Subscribe to the Hip Mama's Place email newsletter, Hip Mama's Place feed reader, or simply "Like" Hip Mama's Place on Facebook and/or follow Hip Mama's Place on Twitter!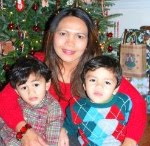 About the Author: Jocelyn Cañasa-Brown is a working mom of two boys and is a recognized blogger and mom influencer in the Washington, DC area. In her spare time, she designs and creates her own handmade jewelry, maintains her jewelry store on Etsy and is an active moms group organizer and leader both online and offline. Hip Mama's Place was nominated for Parents 2011 Best All-Around Mom Blog and named one of the Highest Rated Blogs and Sites on Nickelodeon ParentsConnect for the Washington, DC area. Follow Jocelyn on Twitter, Facebook and Pinterest.