With the 4th of July right around the corner, many will be traveling for summer beach outings, barbecues and more. AAA recently projected that 41 Million Americans plan to travel for the 4th of July weekend. That is A LOOOT of people on the road, folks! The more cars, the more accidents are bound to happen, so make sure you know who to go to for legal advice should you need it. It also means that many mistakes can be made while you're out on the road. It is important to remember traffic safety this July weekend, ensuring that you, your family, and other motorists travel to your destination with as little trouble as possible. There are various small traffic faux pas that could get you in trouble, so you may want to visit this website if you want to learn more about them.
And with 34.8 million choosing to travel by automobile (the highest level since 2007, according to AAA), it's more important than ever to ensure children are safe in the backseat. Of course, the first thing to do to ensure your car is safe to travel in is to make sure your vehicle is in working order. Whether your car is new or old, it can still encounter issues. People with new cars tend to trust their vehicle too much, but there is always the possibility that you've been sold a lemon. Of course, if you have been sold a lemon, it would be wise to contact lemon law attorneys in San Diego, but your priority is your safety, so ensure that you have carried out thorough checks on your vehicle.
Here are travel safety tips from Safety 1stConsumer Safety Expert Julie Valleseto to ensure children are safe while enjoying a fun-filled family road trip!
The three most important things when choosing a car seat are:
·

One that fits your child
·

One that you will use correctly every time
You can accomplish this by:
·

Have the car you will be using the seat in with you and try it out at the store.
·

If possible have your child with you at the time of purchase
·

Follow information in both the car seat manual and vehicle manual for installation
·

Attend a car seat check for assistance in proper installation and use from a certified car seat technician
New rules for car seats using LATCH require understanding of your car seat's weight and child's weight:
·

Car seats manufactured after February 27, 2014 are required to carry a new label with guidance on maximum weight limits for LATCH
·

The combined weight should not exceed 65lbs
·

Look in the manual and label on the car seat to identify the weight of the seat
·

Look for a weight on the maximum weight for the child
·

Know your child's weight
·

If the combined weight of the seat and your child exceeds 65lbs-install the car seat using the vehicle's belt
From car seats that provide full body safety protection to crash tested car storage for travel essentials, Safety 1st has all perfect products for your child's safety while traveling!
Car Seats:
* TheSafety 1st onBoard Air 35 Air + infant car seat allows your child to ride rear facing from 4-25 pounds. It's equipped with a 5-point harness, adjustable stay in the car base and Carry Curve™ Handle with an ergonomic design.

* The Safety 1st Advance SE 65 Air + convertible car seat ensures your child is safe from 5-65 pounds. Better yet, it meets the new requirements for the new 65 Pound LATCH rule.
* The Safety 1st BoostAPak is a belt-positioning booster, that's also a backpack! To help make booster seat riding more fun for children, and easier for parent's the BoostAPak provides on-the-go convenience and safety. Perfect for traveling, switching between cars, and it fits into an overhead plane compartment.
Anything not secured down is a potential projectile in the event of a crash or just stopping fast.
* The
Safety 1st Car Door Sanitation Station
easily installs into a car doors compartment, allowing parents to store tissues, wipes, lotion, and other essentials within arm's reach.
No more to stretching or taking eyes off the road to find items stashed under seats!
* The Safety 1st Just-In-Case Storage Station keeps travel essentials like diapers and toys safely stored in the car trunk eliminating the worry of car projectiles. The storage station secures to trunk floor with anchoring screws.
*Hip Mama's Place Disclosure:
"My reviews and opinions are 100% my own. Safety 1st sent me a promotional product necessary to facilitate my review".
Don't miss out on the latest fab deals, cool freebies, fun giveaways, delicious recipes, DIY inspirations and more! Subscribe to the Hip Mama's Place email newsletter, Hip Mama's Place feed reader, or simply "Like" Hip Mama's Place on Facebook and/or follow Hip Mama's Place on Twitter!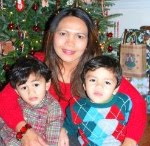 About the Author: Jocelyn Cañasa-Brown is a working mom of two boys and is a recognized blogger and mom influencer in the Washington, DC area. In her spare time, she designs and creates her own handmade jewelry, maintains her jewelry store on

Etsy

and is an active moms group organizer and leader both online and offline. Hip Mama's Place was nominated for Parents 2011 Best All-Around Mom Blog and named one of the

Highest Rated Blogs and Sites

on Nickelodeon ParentsConnect for the Washington, DC area. Follow Jocelyn on

Twitter

,

Facebook

and Pinterest.