Do you know that an estimated 17 million children in America go without dental care each year? As a result, the most common chronic childhood disease is tooth decay. This is why taking your children to visit a dentist is beneficial to their oral hygiene.

Following are some important tips to help your children maintain optimal dental health:
Teach proper brushing and break bad habits. While your child is young, introduce healthy habits when it comes to their teeth. Teach brushing habits at 3 years old and break thumb-sucking and pacifier by age 4.
Thumb, finger and pacifier habits. Children who continue these habits after the age of 2 can affect the way the child's teeth bite together as well as growth of the jaw and bone. GEDC recommends parents talking to their children to get them to stop or have their pediatric dentists talk to them.
First visit by first birthday. It's best if children visit their dentist when the first tooth comes in, usually between 6 and 12 months of age. This helps to establish preventative care and to avoid baby bottle tooth decay and nursing caries.
Primary teeth (baby teeth). These teeth serve a number of critical functions, including being involved in speech development. So it's important they're properly taken care of.
Limit snacking and eat healthy. Stray from sugary and starchy foods that destroy enamel and stick with drinking water, especially between meals. Consuming too many sugary products as a child could have a damaging impact on the health of their teeth and they may experience something like a cavity in the future. And if this is left untreated, it could result in them going through their adult life with missing teeth. Procedures like a tooth replacement (dental implants) would then be carried out by your dentist to ensure that their smile is restored again. But take care in how much snacking you let your children do as you want to avoid this problem as best as you can.
Regular visits with your dentist. Visit the dentist before your child's first birthday to learn how to clean your child's teeth and learn the dangers of bedtime bottles and sippy cups. It's best to start young, as they will be able to get used to it when they get older. By the time your child is 5, dentist visits should be happening every six months.
Brush and floss daily. As soon as two teeth touch, it is important that children brush their teeth twice a day and floss.
Orthodontic evaluation. Children grow quickly and orthodontists are trained to detect problems with the growth and development of the teeth and jaw. The American Association of Orthodontics recommends an orthodontic evaluation by 7 years old.
To find a Great Expressions Dental Center near you, go here.
*Hip Mama's Place Disclosure: "This is a sponsored article provided by Great Expressions Dental Centers. I received promotional products to thank me for my time in facilitating this post. As always, all reviews and opinions expressed are 100% my own".

Don't miss out on the latest fab deals, cool freebies, fun giveaways, delicious recipes, DIY inspirations and more! Subscribe to the Hip Mama's Place email newsletter, Hip Mama's Place feed reader, or simply "Like" Hip Mama's Place on Facebook and/or follow Hip Mama's Place on Twitter!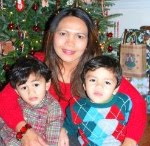 About the Author: Jocelyn Cañasa-Brown is a working mom of two boys and is a recognized blogger and mom influencer in the Washington, DC area. In her spare time, she designs and creates her own handmade jewelry, maintains her jewelry store on Etsy and is an active moms group organizer and leader both online and offline. Hip Mama's Place was nominated for Parents 2011 Best All-Around Mom Blog and named one of the Highest Rated Blogs and Sites on Nickelodeon ParentsConnect for the Washington, DC area. Follow Jocelyn on Twitter, Facebook and Pinterest.