The winter holidays are a busy time. Between shopping for gifts, decorating our homes and planning for the holiday menu, it's easy to forget that the holidays can be stressful for our four-legged friends too!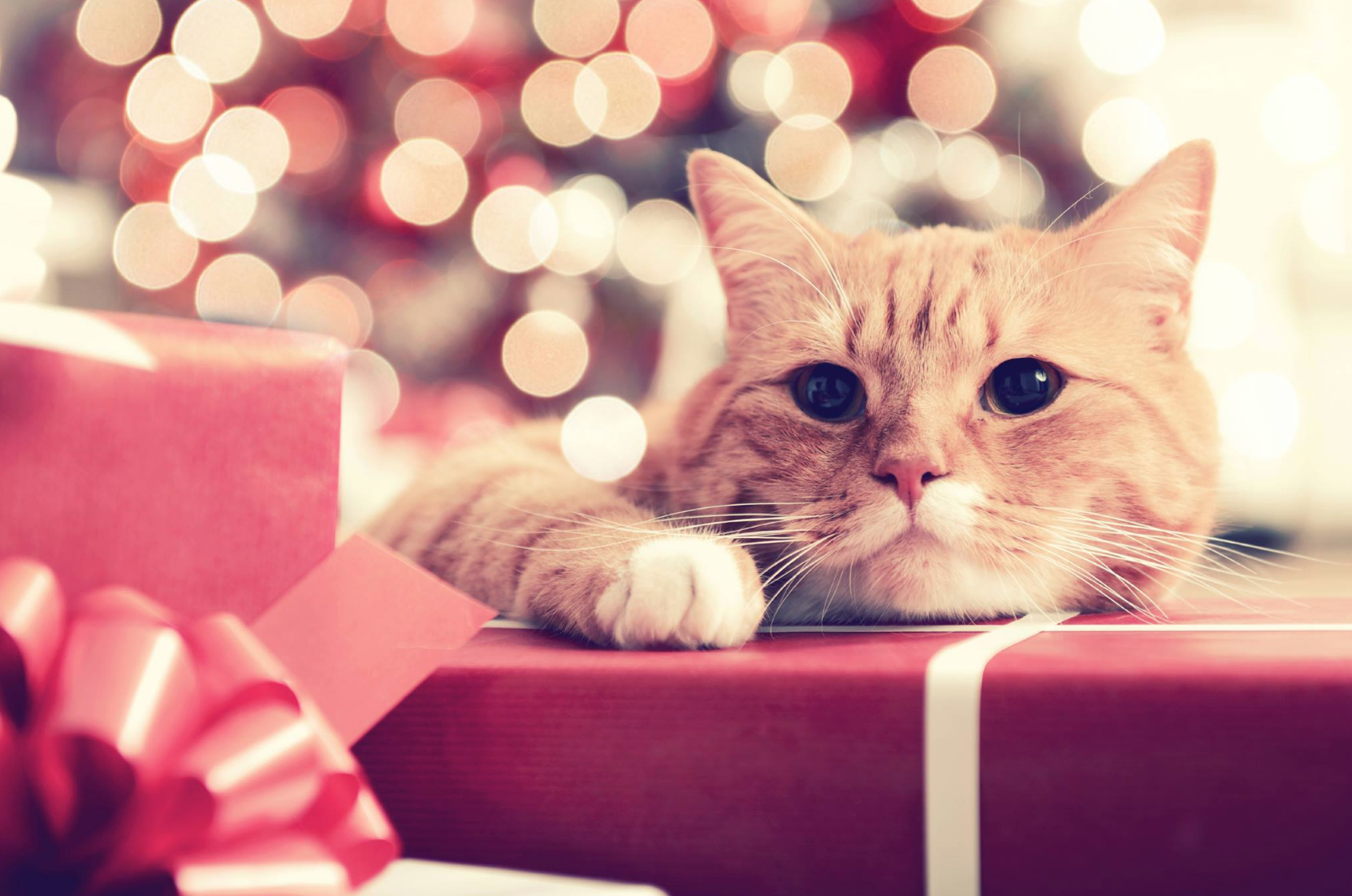 If you're a pet owner like myself, you may not realize that an irregular routine around the holidays can cause your pet/s lots of stress. So as pet owners, it's important to educate ourselves on how to avoid potentially hazardous situations for our pets so that we can keep them safe and healthy throughout the holiday season. Just like any time of year, your pet could become ill at any time and may be in need of veterinary care.
Here's an interesting fact based on a recent report from the Veterinary Pet Insurance Company: upset stomach and diarrhea rank among the top 10 reasons owners go to the vet with their pets. One key tip that our own veterinarian advised us to keep our pet cat, Oscar, healthy and safe around the holidays is to keep holiday toxic pet foods (such as chocolate, unbaked dough and macadamia nuts) out of his reach.
So I'm so glad to be able to share this very timely post with you all pet owners like myself!
Dr. Catherine Lenox, veterinary nutritionist and Scientific Affairs Manager for Royal Canin™, shares with us these valuable tips (Q&A) to keep our pets feeling great during the holidays despite the stress and easy access to human foods!
How are the holidays stressful for pets?
Pets that are exposed to stressful situations, such as boarding at a kennel, traveling to stay with the pet owner's family, or introduced to several house guests, may develop digestive issues.
The holidays are also a time when there are more treats (like some tasty bully sticks, which are good for your dog in moderation!) and food around the house. Guests may not realize that your dog or cat shouldn't eat table scraps or that they should keep their appetizer plate out of the pet's reach.
What are some signs of stress in a pet?
Any deviation from their normal behavior can be an indication of stress in a dog or cat. Some common examples would be:
Poor appetite
Decreased interaction with their owners
Gastrointestinal disturbances
What are some of the signs of GI issues?
Vomiting
Regurgitation
Diarrhea
Refusal to eat
What are some of the most toxic holiday foods for pets to eat?
Chocolate, especially dark chocolate
Unbaked bread dough
Alcohol
Sugar-free candy and gum, jelly and baked goods (when ingested, artificial sweeteners can cause a sudden release of insulin in an animal's body, leading to dangerously low blood sugar)
Macadamia nuts
Turkey, bones, and other meats with fatty portions
Grapes and raisins
Onions and garlic
There are so many things that you should be wary of when it comes to food left around that your pet could consume.
What should you do if you think your pet is stressed?
Start by moving pets to a comfortable environment and a space that they know as their own. Reduce the amount of stimulus and noise in the environment and use a calming voice with your pet. Determine if your pet is exhibiting any signs of gastrointestinal issues and if so, call your veterinarian to discuss the best course of action.
Is it necessary to see a vet for something like GI upset? Won't it just go away on its own?
Your pet's symptoms may seem relatively straightforward, but they could actually be signs of an infection, chronic illness or a more serious condition. If your pet experiences any symptoms, you should contact your veterinarian immediately to determine the best course of action.
In many cases there are simple solutions. For example, Royal Canin's line of veterinary-exclusive gastrointestinal diets provide multiple options to help veterinarians provide individualized nutritional solutions for pets experiencing gastrointestinal issues. Additionally, these diets can help support patients dealing with longer-term gastrointestinal issues.
What are some ways to prevent stress in your pet during the holidays?
Minimize your pet's stress by providing a stable living environment and by preventing unpleasant interactions and experiences. Throughout the holiday celebrations, try to keep your pet's schedule and routine as normal as possible.
Additionally, the holidays might not be the best time to try boarding for the first time. Consider boarding your dog or cat for a half-day or a weekend, well in advance of your holiday trip, to get him or her familiar with the routine.
Keep your pet on a stable diet and avoid table foods, especially those that are toxic.
What are some other things (other than preventing stress) that you can do to help prevent GI upset in your dog or cat during the holidays?
Owners can educate themselves on what causes gastrointestinal issues. Having an understanding of the signs and common causes of digestive issues in dogs and cats can help you take the best of care of your canine companion and know when it is time to contact your veterinarian.
Holiday decor can seem new and interesting to pets, but owners should watch out for potentially dangerous items, such as tinsel, pine needles, poinsettias, and other holiday plants.
Pets raiding the garbage can or consuming items that they find when out walking can develop acute gastritis (stomach upset).
Royal Canin – a line of veterinary-exclusive GASTROINTESTINAL™ formulas offers us simple solutions for cats and dogs experiencing gastrointestinal issues. Each of their at food formulas and dog food formulas are science-based and are made up of over 50 nutrients that must be included in precise balance to supply the most effective nutrition for cats and dogs of different sizes, ages, breeds and lifestyles, and with specific needs.
Dr. Lenox also advised that pet owners can ask their veterinarian about Royal Canin's line of gastrointestinal solutions and to visit MyPetReference.com as a resource on their most frequently asked questions and concerns regarding their pet's GI issues and more.
Visit Royal Canin online on their website and social media pages below!
Facebook: www.facebook.com/RoyalCanin.us
Twitter: @RoyalCanin
Instagram: @royalcaninus
This post is sponsored by Royal Canin. I am being compensated for helping spread the word about Royal Canin's veterinary-exclusive gastrointestinal diet, but all opinions are my own. Royal Canin is not responsible for the content of this article.