Here's a fantastic way to give your child's mind a boost, especially that summer is almost over and school is almost back! I personally love this idea to get my kids ready for back to school!

If your kids are in Pre-K through 5th grade, you can get a really great deal on online Math Skills Lessons from IntelliSeed through Plum District for as low as only $9 for three months! This offer is only available on Plum District for a limited time so grab it while you can!

What you need to know:

IntelliSeed's online learning courses help Pre-K through 5th graders develop skills through fun-based learning and real-time motivation (scores and rewards, like stickers!)
Take 3 months, 6 months, or 1 year of their age-appropriate Math Skills Lessons, where kids will work on counting, number operations, algebra, story problems, and more

The program offers a combination of practice and speed tests that help improve attention span, focus, self esteem, memory, and thinking and reasoning skills

Their mock assessment tests are great for preparing 3rd-5th Graders for standardized tests such as EOGs, STAR, NYSTP, Olympiad, Terranova, and others!
There is also an option to purchase 6 and 12 months. I just bought the $25 for a year offer – a very worthy investment to enhance my kids' learning and Math skills, if you ask me! I love, love, love this deal! 🙂

Don't miss out on the latest fab deals, cool freebies, fun giveaways, delicious recipes, DIY inspirations and more! Subscribe to the Hip Mama's Place email newsletter, Hip Mama's Place feed reader, or simply "Like" Hip Mama's Place on Facebook and/or follow Hip Mama's Place on Twitter!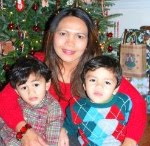 About the Author: Jocelyn Cañasa-Brown is a working mom of two boys and is a recognized blogger and mom influencer in the Washington, DC area. In her spare time, she designs and creates her own handmade jewelry, maintains her jewelry store on Etsy and is an active moms group organizer and leader both online and offline. Hip Mama's Place was nominated for Parents 2011 Best All-Around Mom Blog and named one of the Highest Rated Blogs and Sites on Nickelodeon ParentsConnect for the Washington, DC area. Follow Jocelyn on Twitter, Facebook and Pinterest.