If you are a member of The Pink Panel (or sign up for free if you haven't yet by clicking on the JOIN tab), they are once again offering two new beauty product testings. Check out the details from each link below to see if you qualify! You will score a full size beauty product to be tested plus a $25 Amazon gift card if you are selected. Good luck!

*If you are between the ages of 25-65 and are interested in trying out a Clay Face Mask and a Body Wash, Body Lotion and Hand Wash, plus get a $25 Amazon gift card for participating, apply here.
* The Pink Panel is looking for women between the ages of 35-55 to be part of a new 7-Day Beauty Product Testing group to test out a new and revolutionary mud to oil cleanser. Go here to apply.
You will be notified within a few days if you are selected for these testings. I have participated in one recent The Pink Panel beauty testing and it's a fun way to try a new beauty product and getting paid for it! 🙂
Don't miss out on the latest fab deals, cool freebies, fun giveaways, delicious recipes, DIY inspirations and more! Subscribe to the Hip Mama's Place email newsletter, Hip Mama's Place feed reader, or simply "Like" Hip Mama's Place on Facebook and/or follow Hip Mama's Place on Twitter!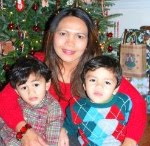 About the Author: Jocelyn Cañasa-Brown is a working mom of two boys and is a recognized blogger and mom influencer in the Washington, DC area. In her spare time, she designs and creates her own handmade jewelry, maintains her jewelry store on Etsy and is an active moms group organizer and leader both online and offline. Hip Mama's Place was nominated for Parents 2011 Best All-Around Mom Blog and named one of the Highest Rated Blogs and Sites on Nickelodeon ParentsConnect for the Washington, DC area. Follow Jocelyn on Twitter, Facebook and Pinterest.