If you have children that are crazy over those colorful loom bracelets, chances are, you are finding bracelets and rubber bands taking over your household. Moms Katy and Lauren knew all too well. While they loved the focus and creativity those loom bracelets provide for their kids, they were also faced with the dilemma of finding bracelets winding up everywhere- from their couch cushions to their dog's mouth. One day, Katy found her five year old son, Jake, using a paper towel roll to hold and display his ever growing collection of loom bracelets. From this simple concept, a clever product came to be: The Original Loom Boom – a first-of-its kind product intended to organize, display, transport and share loom bracelet creations!

Featuring bright-colored tubes, the Loom Boom can hold up to 40 bracelets. It's got detachable base so "loomers" can have easy access to bracelets at the bottom. The base also serves as an extra storage for loom bands, charms, clips and other spare parts. The Loom Boom is now available at Michael's and Learning Express for $9.99.
Additionally, The Original Loom Boom is excited to announce that they are sponsoring the 1st Annual Loomy Awards to give "loomers" a chance to show off their creative and unique loom bracelet creations and get rewarded for it!
Winners will be chosen from four categories: Best Bracelet, Coolest Charm, Wackiest Wearable, and Best Loom Boom. Three winners will each receive a $250 VISA gift card, and one grand prize winner will receive a $500 VISA gift card! Plus, all winners will receive a special edition of The Original Loom Boom! To enter the contest, head over to The Original Loom Boom's Facebook page. Winners will be announced on a live web award show on April 30, 2014 or you can find the winners' list online at www.theloomboom.com
So go show off your cool, wacky or creative loom creations and have fun at the 1st Annual Loomy Awards! Good luck! 🙂
*WIN IT! For Hip Mama's Place readers: Head over to the Hip Mama's Place Facebook page and find the post on Loom Boom, then comment up to enter to win one of The Original Loom Boom- a $10 value!
*Hip Mama's Place Disclosure: "My reviews and opinions are 100% my own. Loom Boom sent me a promotional product and the giveaway prize necessary to facilitate my review and giveaway post".
Don't miss out on the latest fab deals, cool freebies, fun giveaways, delicious recipes, DIY inspirations and more! Subscribe to the Hip Mama's Place email newsletter, Hip Mama's Place feed reader, or simply "Like" Hip Mama's Place on Facebook and/or follow Hip Mama's Place on Twitter!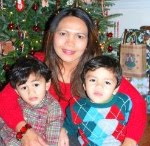 About the Author: Jocelyn Cañasa-Brown is a working mom of two boys and is a recognized blogger and mom influencer in the Washington, DC area. In her spare time, she designs and creates her own handmade jewelry, maintains her jewelry store on Etsy and is an active moms group organizer and leader both online and offline. Hip Mama's Place was nominated for Parents 2011 Best All-Around Mom Blog and named one of the Highest Rated Blogs and Sites on Nickelodeon ParentsConnect for the Washington, DC area. Follow Jocelyn on Twitter, Facebook and Pinterest.