Thanks to NCircle Entertainment, my little boys have a new favorite DVD movie in the house- The Gruffalo! They think the movie is hilarious and I totally agree! 🙂
About The Gruffalo:
The Gruffalo is a cute, magical story about a little mouse who takes a stroll through the woods in search of his favorite food- a nut! During his search, he encounters three animal predators who all wish to eat him and the clever and confident mouse has to use his wits to survive. He tells his predators that he is meeting a monster that he names the "Gruffalo". Of course, the predators get scared and they leave him alone! But well, what do you think happens when the little mouse comes face-to-face with the terrible creature of his imagination: the Gruffalo himself? (I will leave it at that for your viewing pleasure!) 🙂






My Review:
When we first opened the box to reveal this DVD, the first thing my six year old Gabriel asked me was, "What's a Gruffalo, mommy?". And I thought to myself, "wow, what is it? I don't know either. I think it's just a made up word, baby". But, it did really get me thinking. Although my command of the English language is quite excellent, there was a tiny part of me that doubted if there was really such a thing as the word "gruffalo"! Believe it or not. 🙂
So I told him we'll watch the movie 'cause mommy doesn't know either and we'll find it out together! He got super excited when we played the movie the first time. 🙂


"What a smart little mouse!", exclaimed Gabriel, followed by an unstoppable laughter- the first time we watched this very entertaining family movie. The part of the movie that really makes him and his little brother Jaden laugh so hard is whenever the little mouse makes up "Gruffalos' favorite food" to tell to each of his predators. Like, when he told the owl (who wanted to eat him), "The Gruffalo likes owl ice cream!" and the owl's imagination showed an image of himself inside an ice cream cone with his head topped with a scoop of ice cream. So the owl got really scared and flew away. Too funny! I couldn't stop laughing like my sons either. So clever indeed!
I highly recommend The Gruffalo movie for those family movie nights when you just want to gather everyone in the living room and be entertained with a fantastic, wholesome movie and yummy popcorn! This movie is beautifully animated and appropriate for children of all ages.
A 2010 Academy Award nominee, this super entertaining family movie is narrated by English actress Helena Bonham Carter with voices of an all-star cast. The DVD runs for 40 minutes and is now available for purchase at your local retailer or at www.NCircleEntertainment.com!
*WIN IT!
One of you, lucky Hip Mama's Place reader, will win a DVD copy of the movie "The Gruffalo"!
IMPORTANT: You MUST be a follower of Hip Mama's Place via Google Friend Connect (link is located at the left middle side bar under "Our Hip Followers") for your entry to count. Be sure to include your email address in your comment (or one of your comments, if you'll do extra entries).
To enter the contest, go to: EntertainmentThatEducates.com and browse through the free entertaining activities for your kids offered on the site. Then come back to this post and leave a comment with your most favorite activity and why you/your kid like it. Comments must be in by September 17th, 2011 at 12MN, EST. THIS IS YOUR MANDATORY CONTEST ENTRY.
This contest is open to U.S. ADDRESSES ONLY. Please leave your email address (if you don't have a blog). I will choose ONE (1) WINNER using Random.org and will be announced as a comment on this post. The winner will also be notified by email and/or through a comment on their blog (if available).
*IMPORTANT: PLEASE DO NOT CROSS-PROMOTE ANY OTHER GIVEAWAYS HAPPENING ON ANY OTHER BLOG OR WEBSITE. ANY SPAM COMMENTS WILL BE DELETED IMMEDIATELY.
*EXTRA ENTRIES for many chances to win! BE SURE TO ENTER A SEPARATE COMMENT FOR EACH EXTRA ENTRY YOU DO!
Your comment is your one required/mandatory entry. To earn extra entries, just do the following:
1. Tweet this giveaway daily on Twitter however you like, but include this URL page and hash tags anywhere in your Twitter update: @HipMamasPlace http://bit.ly/pS5jd6 #movies #giveaways (1 EXTRA ENTRY FOR EACH TWEET THAT YOU DO DAILY)
EXAMPLE OF A TWEET:
I want to win a copy of The Gruffalo DVD movie @HipMamasPlace http://bit.ly/pS5jd6 #movies #giveaways!
2. Like or Become a fan of Hip Mama's Place on Facebook and post a comment on our wall and tell me why you like visiting Hip Mama's Place or reply to the latest post on our wall (3 EXTRA ENTRIES)
3. Follow Hip Mama's Place on Twitter (3 EXTRA ENTRIES)
4. Like or Become a fan of NCircleEntertainment on Facebook (3 EXTRA ENTRIES)
5. Follow NCircleEntertainment on Twitter

(3 EXTRA ENTRIES)
6. Join the Hip Mama's Place Community and EARN 2 EXTRA ENTRIES. You can earn 3 more extra entries by creating a new post or join in on the conversations on the "Forum" section of our mom community. (5 TOTAL EXTRA ENTRIES)
7. Grab one of Hip Mama's Place's buttons under the "Grab Our Fabulous Buttons" on the right hand side bar on our main page and paste it on an HTML page on your blog sidebar. (5 EXTRA ENTRIES)
Remember, the more entries you have, the greater chances of winning! Please make sure to leave a separate comment for each thing you do for your extra entries (i.e. your name on HMP Community name, Google Friend Connect, Facebook name, Twitter name and Twitter post links). Good luck!
*Hip Mama's Place Disclosure: "My reviews and opinions are 100% my own. NCircle Entertainment provided me the products mentioned in this post to facilitate my review and giveaway".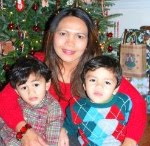 About the Author: Jocelyn Cañasa-Brown is a working mom of two boys and is a recognized blogger and mom influencer in the Washington, DC area. In her spare time, she designs and creates her own handmade jewelry, maintains her jewelry store on Etsy and is an active moms group organizer and leader both online and offline. Hip Mama's Place was nominated for Parents' Picks 2010 Best Parenting Blogs and named one of the Highest Rated Blogs and Sites on Nickelodeon ParentsConnect for the Washington, DC area. Follow Jocelyn on Twitter and/or Facebook.