My wedding day is only a few months away and I've been working hard to lose some unwanted weight. I don't look heavy, but I could really use help with my belly area. I'm not aiming for a six pack abs 'cause I think that would be unrealistic. But a flatter, firmer and more toned abs would be really great! 🙂
So, I was thrilled to receive this new workout accessory called The Belly Burner for review. It's a workout belt designed to intensify calorie burn by increasing thermal core temperature while exercising.
Developed by celebrity fitness trainer Bobby Waldron, The Belly Burner is made of high quality neoprene that naturally generates more heat in your core. It increases metabolic rate, focuses energy, and burns off unwanted inches. Neoprene is the same fabric you see on most wetsuits for insulation and in items such as laptop sleeves, iPod holders and remote controls.
How to Use The Belly Burner:
Simply wrap it around your belly like a belt and whatever physical activity you're doing: walking, jogging, biking, working out at the gym or even just doing your daily normal activity, The Belly Burner will sure to help you burn more calories faster. Plus, the custom design provides you ultimate comfort and function and supports your back while performing those physical activities.
I've used The Belly Burner a few times during my workout routine and yes, it does help with calorie burn. My abs seem to look firmer and flatter after exercising with The Belly Burner belt on. I think that the slightly hot sensation around my belly area while I'm working out feels good. It makes me feel like I'm really getting a lot out of my workout while wearing this amazing belt. I'm definitely making this a part of my exercise activities. I'm lovin' it! 🙂
Check out the Belly Burner belt online at www.thebellyburner.com today! Available in either medium or large, it is available now for only $39.90. The Belly Burner box includes an Exercise and Food Journal, Meal Planner Nutrition Log, At-A-Glance Calorie Counter, plus a FREE DVD Offer (just pay shipping and handling).
*WIN IT!
One lucky Hip Mama's Place reader will win The Belly Burner Belt, valued @ $39.90!
To enter the contest, please leave a comment on this post by June 28th, 2010. Please leave your email address (if you don't have a blog). This contest is open to U.S. ADDRESSES ONLY. I will choose one (1) winner using Random.org and will be announced as a comment on this post. The winner will also be notified by email and/or through a comment on the winner's blog (if available).
*IMPORTANT: PLEASE DO NOT CROSS-PROMOTE ANY OTHER GIVEAWAYS HAPPENING ON ANY OTHER BLOG OR WEBSITE. I WILL APPRECIATE IT VERY MUCH.
*EXTRA ENTRIES:
Your comment is your one required entry. To earn extra entries, just do the following:
1. Like or Become a fan of Hip Mama's Place on Facebook and post a comment on our wall and tell me why you like visiting Hip Mama's Place or reply to the latest post on our wall (3 EXTRA ENTRIES)
2. Tweet this event on Twitter however you like, but include this URL page and hash tags at the end of your comment: http://bit.ly/c4Qkej #giveaways #fitness #TheBellyBurner (3 EXTRA ENTRIES)
Example:

I just entered the The Belly Burner giveaway on Hip Mama's Place! http://bit.ly/c4Qkej #giveaways #fitness #TheBellyBurner
3. Follow me or friend me on Google Friend Connect (link is under "Our Hip Followers" on the left side bar) (3 EXTRA ENTRIES)
4. Write a short post about this giveaway on your blog linking to our home page or the URL page address for this post: (5 EXTRA ENTRIES)

https://www.hipmamasplace.com/2010/06/belly-burner-review-and-giveaway.html
5. Follow Hip Mama's Place on Twitter (2 EXTRA ENTRIES)
6. Join the Hip Mama's Place Community and EARN 2 EXTRA ENTRIES. You can earn 3 more extra entries by creating a new post or join in on the conversations on the "Forum" section of our mom community. (5 TOTAL EXTRA ENTRIES)
7. Grab the Hip Mama's Place badge code under the "Grab Our Fabulous Button" and paste it on an HTML page on your blog sidebar. (3 EXTRA ENTRIES)
Remember, the more entries you have, the greater chances of winning! Please make sure to leave a separate comment for each thing you do for your extra entries (i.e. your name on HMP Community name, Google Friend Connect, blog posts, Facebook name, Twitter name and post links, etcetera). Good luck!
*Hip Mama's Place Disclosure: "The opinions I am sharing remain my own. I received the The Belly Burner belt to facilitate this review. The giveaway is provided solely by The Belly Burner".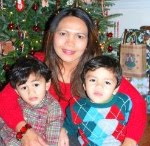 About the Author: Jocelyn Duncan is a working mom of two boys and is a recognized blogger and mom influencer in the Washington, DC area. In her spare time, she designs and creates her own handmade jewelry, maintains her jewelry store on Etsy and is an active moms group organizer and leader both online and offline. Follow Jocelyn on Twitter and/or Facebook.