April is National Autism Awareness Month and this Spring, A.C. Moore Arts & Crafts, Inc. and Easter Seals has teamed up to offer families the opportunity to help a great cause: support and help individuals and families living and dealing with Autism.


Now through April 28th, show your support by donating $1 to to Easter Seals' Act for Autism campaign at any A.C. Moore store when you checkout. Then on April 21, 2012, from 1 p.m. to 3 p.m., all A.C. Moore stores will host a family t-shirt decorating event. With the on-site purchase of a t-shirt, customers will get to decorate it for free with a theme supportive of the Act for Autism campaign.
The money raised during the campaign supports Easter Seals autism services in the same local communities as A.C. Moore stores, giving thousands of children and adults with autism access to critical services that help them live, learn, work, and play. Since launching the campaign as part of its Crafting a Better World program in 2010, A.C. Moore customers and store team members have raised more than $300,000 for Easter Seals.
Today, one in 110 children are diagnosed with autism and there's an increasing need for funding, services and support. There's no known cause, cure or single effective treatment, but people with autism at any age can make significant progress and lead meaningful lives. Getting the right support at the earliest stage in life can help a child gain the skills he or she needs to be successful.
This event at A.C. Moore stores spans March's National Craft Month and April's National Autism Awareness Month which gives A.C. Moore customers an opportunity to express their creativity and learn about autism.


In the next few days, I will be featuring some fun, creative Easter crafts and projects, brought to you by A.C. Moore! My kids will have a blast and we're so excited! 🙂
About Easter Seals
Easter Seals is the leading non-profit provider of services for individuals with autism, developmental disabilities, physical disabilities and other special needs. For more than 90 years, we have been offering help and hope to children and adults living with disabilities, and to the families who love them. Through therapy, training, education and support services, Easter Seals creates life-changing solutions so that people with disabilities can live, learn, work and play. Support children and adults with disabilities at www.easterseals.com or www.MaketheFirstFiveCount.org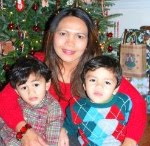 About the Author: Jocelyn Cañasa-Brown is a working mom of two boys and is a recognized blogger and mom influencer in the Washington, DC area. In her spare time, she designs and creates her own handmade jewelry, maintains her jewelry store on Etsy and is an active moms group organizer and leader both online and offline. Hip Mama's Place was nominated for Parents 2011 Best All-Around Mom Blog and named one of the Highest Rated Blogs and Sites on Nickelodeon ParentsConnect for the Washington, DC area. Follow Jocelyn on Twitter and/or Facebook.