My little boys (five year old) Gabriel and (almost four year old) Jaden really love this witty little guy named Pocoyo.
We owned two of the earlier Pocoyo DVDs and this new one we just received from NCircle Entertainment, Super Pocoyo, is even more entertaining!
Synopsis:
Pocoyo explores, discovers, encounters, laughs, questions and celebrates. Join Pocoyo and his friends Duck, Elly, Loula and Sleepy Bird as they play hide and seek, fly an airplane and go on a camping adventure! Discover learning through laughter with Pocoyo!
My Take on Super Pocoyo DVD:
Super Pocoyo is a fun animated show for children that follows the adventures of a super adorable and witty little boy named Pocoyo and his friends Pato (a duck), Elly (a pink elephant), Sleepy Bird, Baby Bird, & more! Your kids will learn a number of things in this show such as: helping each other, being kind, exploring the world, encouraging creativity, coloring, painting and more!
There were lots of giggles from my boys throughout the show especially the episode where the flower dances and Pocoyo would look disappointed when the flower stops to dance because it's thirsty and needed water. The flower would then start dancing again when Pocoyo pours water on it with his magical watering can. Silly but very entertaining!
I also love the cool and vibrant colors used all throughout the show- very easy on my kids' eyes and the movement of the characters is not too fast. This 90-minute DVD with is full of hilarious antics children will enjoy all year through! Recommended age: 0-6 years old.
Pocoyo DVDs and toys are now available at Toys "R" Us. Current NCircle DVDs include a catalog inserted inside the DVDs with a $2.00 off coupon for Pocoyo toys! Great idea to stuff the kids' Christmas stockings! 🙂
*WIN IT!
One of you, lucky Hip Mama's Place reader, will win one (1) copy of Super Pocoyo DVD!
To enter the contest, visit NCircle Entertainment's web page at: www.theyarelearning.com and tell me your/your child's most favorite coloring page and why. THIS IS YOUR MANDATORY CONTEST ENTRY.
This contest is open to U.S. ADDRESSES ONLY and will end on December 28th, 2010 at 12MN, EST. Please leave your email address (if you don't have a blog). I will choose one (1) winner using Random.org and will be announced as a comment on this post. The winner will also be notified by email and/or through a comment on their blog (if available).
*IMPORTANT: PLEASE DO NOT CROSS-PROMOTE ANY OTHER GIVEAWAYS HAPPENING ON ANY OTHER BLOG OR WEBSITE. ANY SPAM COMMENTS WILL BE DELETED IMMEDIATELY.
*EXTRA ENTRIES for many chances to win!
Your comment is your one required/mandatory entry. To earn extra entries, just do the following:
1. Tweet this giveaway on Twitter however you like, but include this URL page and hash tags at the end of your comment: http://bit.ly/i2StpI #giveaways #holiday (5 EXTRA ENTRIES)
Example:



I want to win a Super Pocoyo DVD giveaway @hipmamasplace! http://bit.ly/i2StpI #giveaways #holiday
2. Follow NCircle Entertainment on Twitter (3 EXTRA ENTRIES)
3. Like or Become a Fan of NCircle Entertainment on Facebook
4. Like or Become a fan of Hip Mama's Place on Facebook and post a comment on our wall and tell me why you like visiting Hip Mama's Place or reply to the latest post on our wall (3 EXTRA ENTRIES)
5. Follow Hip Mama's Place on Twitter (3 EXTRA ENTRIES)
6. Follow me or friend me on Google Friend Connect (link is under "Our Hip Followers" on the left side bar) (3 EXTRA ENTRIES)
7. Join the Hip Mama's Place Community and EARN 2 EXTRA ENTRIES. You can earn 3 more extra entries by creating a new post or join in on the conversations on the "Forum" section of our mom community. (5 TOTAL EXTRA ENTRIES)
8. Grab one of Hip Mama's Place's buttons under the "Grab Our Fabulous Buttons" on the right hand side bar on our main page and paste it on an HTML page on your blog sidebar. (5 EXTRA ENTRIES)
Remember, the more entries you have, the greater chances of winning! Please make sure to leave a separate comment for each thing you do for your extra entries (i.e. your name on HMP Community name, Google Friend Connect, blog posts, Facebook name, Twitter name and post links, etcetera). Good luck!
*Hip Mama's Place Disclosure: "My reviews and opinions are 100% my own. NCircle Entertainment provided me a copy of Super Pocoyo DVD to facilitate this review. A separate DVD copy will also be provided for the reader giveaway".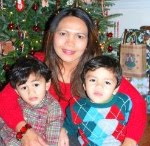 About the Author: Jocelyn Cañasa-Brown is a working mom of two boys and is a recognized blogger and mom influencer in the Washington, DC area. In her spare time, she designs and creates her own handmade jewelry, maintains her jewelry store on Etsy and is an active moms group organizer and leader both online and offline. Hip Mama's Place was nominated for Parents' Picks 2010 Best Parenting Blogs and named one of the Highest Rated Blogs and Sites on Nickelodeon ParentsConnect for the Washington, DC area. Follow Jocelyn on Twitter and/or Facebook.