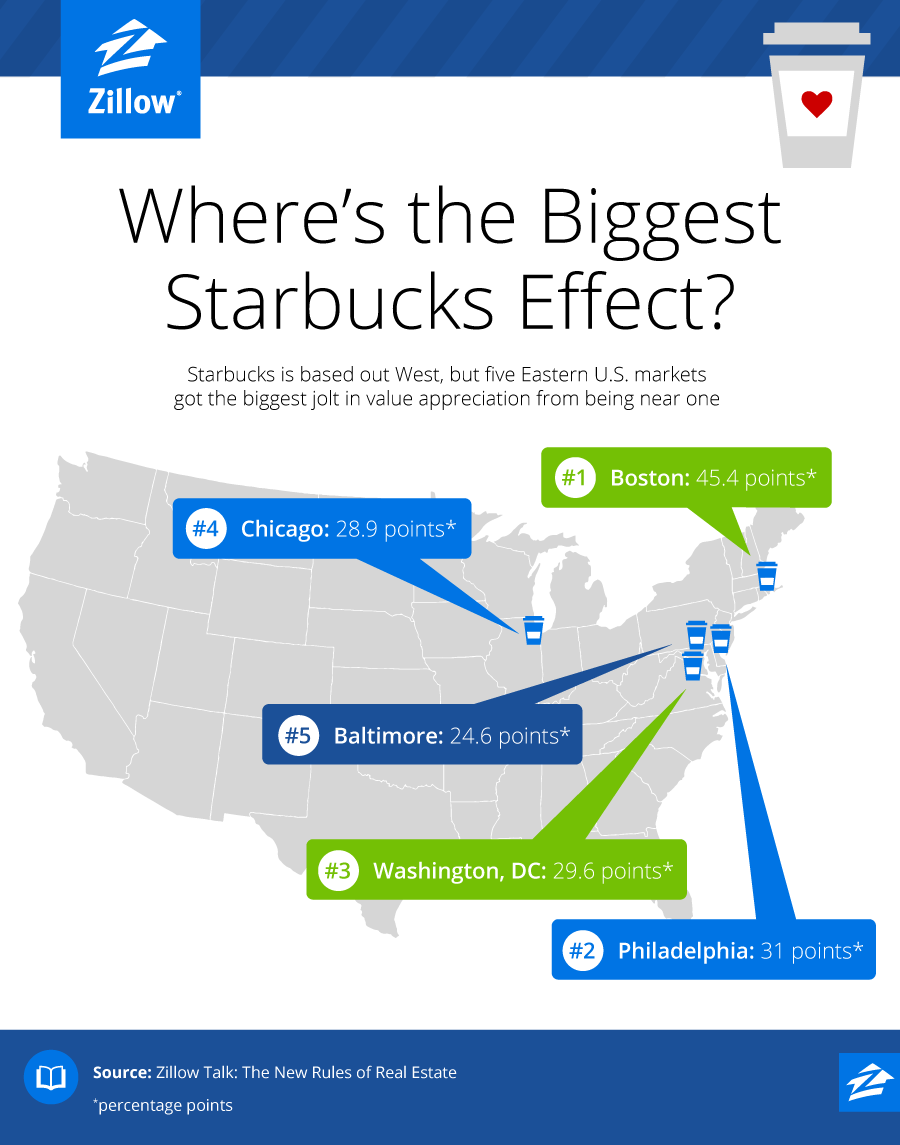 What's your favorite coffee shop order? You probably have yours memorized to the point where it rolls off your tongue subconsciously while you're mentally adding items to your grocery list, visualizing your afternoon schedule or thinking about your kid's upcoming science project. For most, a morning cup of java is a must and the nearest coffee shop is the go-to spot. Those on a budget may fill their morning traveler on weekdays, but cherish their routine strolls to the local Starbucks on Saturday mornings.
It turns out, living near Starbucks adds more than convenience to your life. Homes within a quarter-mile of Starbucks experience dramatically higher appreciation rates, than properties not near the coffee giant. So, living in close proximity to Starbucks actually lines your pockets long-term – not just empties them each week.
Whether you're a homeowner, a prospective buyer deciding between two properties or someone who saw the neighborhood shopping center recently added a Starbucks, this Starbucks Effect can work to your advantage.
Zillow economists studied U.S. home value appreciation between the years of 1997 and 2013, finding home values appreciated 65 percent on average. Homes near Starbucks, during the same time period, appreciated a steaming 96 percent. Experts analyzed the Starbucks Effect in 20 of the country's largest cities, ranking markets where Starbucks fueled the most appreciation.
Top Five Cities with Greatest Starbucks Effect
1. Boston, MA
2. Philadelphia, PA
3. Washington, DC
4. Chicago, IL
5. Baltimore, MD
Washington, DC ranks third, indicating homes near Starbucks experienced the greatest boost in home values, compared to homes near Starbucks in other cities. Homes values in Washington, DC appreciated an average of 121.8 percent during the 17-year time period. Homes in the same city, within a quarter mile of Starbucks, appreciated 151.4 percent.
Starbucks has analytics experts who scientifically pinpoint new locations for the behemoth java empire, but numbers indicate that new store openings precede the increases in appreciation rates.
So, homeowners should welcome the next nearby Starbucks as a sign of increased returns on their future home sales. Home shoppers should keep alert to construction in their prospective new neighborhoods where Starbucks are "coming soon" – it's a useful indicator of prosperous investments and convenient caffeine fixes during your home owning experiences.
Article and data provided by: Zillow
*Disclosure: This post may contain my affiliate links. Read my Disclosure Policy for more details. Thanks for supporting Hip Mama's Place!