Now that summer is here and the kids are out of school and wreaking havoc on the house every day, what parent has time to get out the ironing board, wait for the iron to heat up and then iron an outfit in the morning?
Enter the new and improved Downy Wrinkle Releaser Plus – a spray-on product that magically reduces wrinkles in clothes in minutes! With three boys, a husband and a pet cat, I know how it feels when you don't have enough time to iron clothes. So this product definitely makes my life easier! I do admit, I mostly still like to iron our clothes even with our busy schedules. So I've also used this product as an a alternative to water and starch when I iron. It leaves no residue on our clothes and makes the fabrics crisp and smell really fresh too!
Or, if you'd rather skip the ironing totally, you can just spray this #WonderBottle on clothes, give them a tug to loosen wrinkles and then smooth them flat. Wait for a few minutes and voilà, the wrinkles are gone! I tested this on a shirt (minus the ironing!) and wow, this product really does wonders when trying to eliminate wrinkles in such a short time!
So this summer when your linen, cotton and lightweight summery shorts and shirts are a wrinkly mess, simply spritz the wrinkles away with the new Downy Wrinkle Releaser Plus! You can watch a short video demonstration here of how to use Downy Wrinkle Releaser Plus and how effective it is in eliminating wrinkles on clothes and fabrics.
What's more, Downy Wrinkle Releaser Plus is more than just a replacement for the hassle of everyday ironing. It also has 101 uses for the home, family and traveler. Here are just a few:

* as a quick-fix solution to remove creases from bed sheets, pillowcases, drapery, tablecloths and napkins and other household fabric items
* as a freshener and odor remover for furniture, pet beds, car seats and more
* eliminates static cling in any clothing – great on those fashion emergencies!
* great as a travel companion when you don't have time to iron your clothes

Downy Wrinkle Realeaser Plus is sold in three sizes: 1-liter bottle ($6.99), 500 mL bottle ($4.19) and travel-friendly 3 oz size ($1.99). You can grab them at your local Walmart, Target, Walgreens, Kroger, Publix and many other grocery, drug and mass retailers. For more information on this product, visit: www.downywrinklereleaserplus.com
Ready to try Downy Wrinkle Releaser Plus? You can request a $1.00 off coupon by email too!

*Hip Mama's Place Disclosure: "My reviews and opinions are 100% my own. Downy Wrinkle Releaser Plus sent me a pack of promotional products necessary to facilitate my review".

Don't miss out on the latest fab deals, cool freebies, fun giveaways, delicious recipes, DIY inspirations and more! Subscribe to the Hip Mama's Place email newsletter, Hip Mama's Place feed reader, or simply "Like" Hip Mama's Place on Facebook and/or follow Hip Mama's Place on Twitter!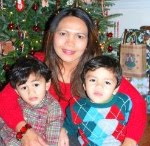 About the Author: Jocelyn Cañasa-Brown is a working mom of two boys and is a recognized blogger and mom influencer in the Washington, DC area. In her spare time, she designs and creates her own handmade jewelry, maintains her jewelry store on Etsy and is an active moms group organizer and leader both online and offline. Hip Mama's Place was nominated for Parents 2011 Best All-Around Mom Blog and named one of the Highest Rated Blogs and Sites on Nickelodeon ParentsConnect for the Washington, DC area. Follow Jocelyn on Twitter, Facebook and Pinterest.