I'm such a huge Sarah McLachlan fan. I remember when I bought Sarah's "Surfacing" CD when it first came out more than ten years ago. Oh, how I love every single track in that CD! I could listen to those songs everyday and I'll never get tired of them.
Are you a Sarah McLachlan fan like me? Check this out.
The Grammy® award winning, multi-platinum singer/songwriter just released her long awaited new album, "LAWS OF ILLUSION" yesterday, June 15th!
True to her Canadian roots, "Laws of Illusion" was recorded in Montreal and Vancouver with Sarah's longtime collaborator/producer Pierre Marchand. This album was released June 15th just weeks in advance of the kick off to Lilith Fair 2010– the historic all women touring festival founded by McLachlan. (See more info on Lilith Fair below).
The album's first single, "Loving You is Easy" is one of my personal favorites and it's no surprise why it's now on the Top Ten hits at Adult Alternative radio! I love this song. Smooth, sentimental and romantic. It's a true Sarah McLachlan piece… a work of art!
"LAWS OF ILLUSION" Tracklisting:
1. Awakenings
2. Illusion Of Bliss
3. Loving You Is Easy
4. Changes
5. Forgiveness
6. Rivers Of Love
7. Love Come
8. Out Of Tune
9. Heartbreak
10. Don't Give Up On Us
11. U Want Me 2
12. Bring On The Wonder
13. Love Come (Piano Version)
Check out Sarah performing a medley of her hits on Dancing With The Stars– it's a MUST-SEE! 🙂
About the Lilith Fair Summer Tour:
From 1997 through 1999, Lilith Fair was one of the highest grossing touring festivals in the world, with over 2 million fans in attendance and raising over $10 million dollars for national and local women's charities. This summer, this historic all-female music festival is returning with a big bang!
Check out the lineup of artists joining Sarah on the bill: Colbie Caillat, Mary J. Blige, Sheryl Crow, Erykah Badu, Ke$ha, Norah Jones, Sugarland, Heart, Miranda Lambert, Beth Orton, Brandi Carlile, Cat Power, Chantel Kreviazuk, Corinne Bailey Rae, Emmylou Harris, Gossip, Indigo Girls, Ingrid Michaelson, Jill Scott, Loretta Lynn, Metric, Sara Bareilles, Tegan and Sara and more! Sounds exciting, isn't it? If I get lucky, I could convince one of my girlfriends to come with me and see the one in Washington DC on August 3rd. 🙂
Anyway, to see the schedule for the Lilith Fair Festival happening in your own city and buy tickets, CLICK HERE.
Sarah McLachlan's "LAWS OF ILLUSION" CD Album is now available at Barnes and Noble or at Amazon for $9.99!
*WIN IT!
I have one (1) copy of Sarah McLachlan's "LAWS OF ILLUSION" CD Album to give away to one of you, lucky Hip Mama's Place reader!
To enter the contest, please leave a comment and tell me your most favorite song or album by Sarah McLachlan and why. Please leave your email address (if you don't have a blog). This contest ends on June 30th, 2010 and is open to U.S. AND CANADA ADDRESSES ONLY. I will choose one (1) winner using Random.org and will be announced as a comment on this post. The winner will also be notified by email and/or through a comment on the winner's blog (if available).
*IMPORTANT: PLEASE DO NOT CROSS-PROMOTE ANY OTHER GIVEAWAYS HAPPENING ON ANY OTHER BLOG OR WEBSITE. I WILL APPRECIATE IT VERY MUCH.
*EXTRA ENTRIES:
Your comment is your one required entry. To earn extra entries, just do the following:
1. Like or Become a fan of Hip Mama's Place on Facebook and post a comment on our wall and tell me why you like visiting Hip Mama's Place or reply to the latest post on our wall (3 EXTRA ENTRIES)
2. Tweet this event on Twitter however you like, but include this URL page and hash tags at the end of your comment: https://bit.ly/atgAD4 #giveaways #music #SarahMcLachlan (3 EXTRA ENTRIES)
Example:

I just entered Sarah McLachlan's Laws of Illusion CD giveaway on Hip Mama's Place! https://bit.ly/atgAD4 #giveaways #music #SarahMcLachlan
3. Follow Sarah McLachlan on Facebook and Twitter (2 EXTRA ENTRIES)
4. Friend me on Google Friend Connect (link is under "Our Hip Followers" on the left side bar) (3 EXTRA ENTRIES)
5. Write a short post about this giveaway on your blog linking to our home page or the URL page address for this post: (5 EXTRA ENTRIES)
https://www.hipmamasplace.com/2010/06/sarah-mclachlans-new-album-laws-of.html
6. Follow Hip Mama's Place on Twitter (2 EXTRA ENTRIES)
7. Join the Hip Mama's Place Community and EARN 2 EXTRA ENTRIES. You can earn 3 more extra entries by creating a new post or join in on the conversations on the "Forum" section of our mom community. (5 TOTAL EXTRA ENTRIES)
8. Grab the Hip Mama's Place badge code under the "Grab Our Fabulous Button" and paste it on an HTML page on your blog sidebar. (3 EXTRA ENTRIES)
Remember, the more entries you have, the greater chances of winning! Please make sure to leave a separate comment for each thing you do for your extra entries (i.e. your name on HMP Community name, Google Friend Connect, blog posts, Facebook name, Twitter name and post links, etcetera). Good luck!
*Hip Mama's Place Disclosure: "The opinions I am sharing remain my own. I wrote this review while participating in a blog tour campaign by One2One Network on behalf of ARISTA Records for Sarah McLachlan. The giveaway is provided solely by One2One Network".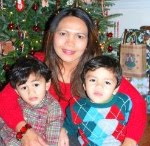 About the Author: Jocelyn Duncan is a working mom of two boys and is a recognized blogger and mom influencer in the Washington, DC area. In her spare time, she designs and creates her own handmade jewelry, maintains her jewelry store on Etsy and is an active moms group organizer and leader both online and offline. Follow Jocelyn on Twitter and/or Facebook.