Do you know that the health of your mouth can affect the health of your whole body? A recent *study showed that people with serious gum disease were 40% more likely to have a chronic condition on top of it. No one wants that, especially when it can be up to you to prevent this. Whether you're thinking of getting dental implants, braces, fillings or just going for a general checkup, keeping on top of your oral hygiene is very important. Something as simple as brushing your teeth regularly and visiting the dentist could be the answers you're looking for.
While we briefly mention gum disease, no one should have to live with this, which is why visiting a professional dentist could help you get your oral hygiene back on track and they can give you useful advice on how to prevent this happening again. That's why when it comes to oral care, I take it seriously. For my family, we like dentist-approved oral care products from REACH.
Recently, they've introduced a brand new toothbrush concept called REACH Complete Care. These toothbrushes are totally worthy of the name "complete". So glad to receive these new REACH Complete Care toothbrushes for review and here's my take:
*I found the triple angle technology provides maximum total mouth cleaning with its three different angles of bristle cleaning – ­left, straight and right. This technology also offers maximum vertical surface contact for superior plaque removal – a big bonus besides making your mouth feel totally clean!

*I love the triple-angled bristles in these REACH Complete Care toothbrushes which I found to clean more areas in between teeth that are hard to reach with regular one angle bristle toothbrushes.

*Both Triple Angle PRO and Triple Angle FLOSS have triple angle neck and tongue cleaner features. But I love the Triple Angle FLOSSbetter as it has floss-like bristles that remove plaque deep between teeth and along the gum line.
REACH Complete Care Triple Angle PRO and Triple Angle FLOSS toothbrushes come in SOFT, MEDIUM, and FIRM bristles. Choose the one that best fits your needs. You can purchase them now at your local grocery and mass retail stores like Walmart, Target, Kmart and more!

And here are Oral Care Tips To Keep Your Mouth Healthy and Feeling Good:
*Brush your teeth for 2 minutes, twice a day using a toothpaste containing fluoride.

*Brush the inner surfaces of your teeth to remove more plaque.

*Help freshen your breath by brushing your tongue to remove bacteria.

*Floss between your teeth once a day to remove plaque in areas where toothbrush cannot reach. Un-removed plaque will harden into tartar, which can only be removed with a professional cleaning.

*Worn bristles are ineffective so replace your brush at least every 3 months.
*Maintain a nutritious diet – eat healthy foods and drink more water and fewer sugary sodas and in between meals snacks
*Schedule regular dental visits.
Sources: WebMD: Oral Health: The Mouth-Body Connection ; REACH: Oral Care Tips
Photos on this post courtesy of: REACH Toothbrush and Mouth Healthy
*Hip Mama's Place Disclosure: "My reviews and opinions are 100% my own. I received promotional products from REACH Toothbrush necessary to write this review".

Don't miss out on the latest fab deals, cool freebies, fun giveaways, delicious recipes, DIY inspirations and more! Subscribe to the Hip Mama's Place email newsletter, Hip Mama's Place feed reader, or simply "Like" Hip Mama's Place on Facebook and/or follow Hip Mama's Place on Twitter!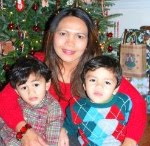 About the Author: Jocelyn Cañasa-Brown is a working mom of two boys and is a recognized blogger and mom influencer in the Washington, DC area. In her spare time, she designs and creates her own handmade jewelry, maintains her jewelry store on Etsy and is an active moms group organizer and leader both online and offline. Hip Mama's Place was nominated for Parents 2011 Best All-Around Mom Blog and named one of the Highest Rated Blogs and Sites on Nickelodeon ParentsConnect for the Washington, DC area. Follow Jocelyn on Twitter, Facebook and Pinterest.