One of the things I enjoy doing during the holiday season is giving gifts to my loved ones that I know they will enjoy. But in these tough economic times, it's not always possible to give to all the special people in my life.
So I was excited to receive this wonderful news from Restaurant.com– my place online to get discounted gift certificates to some of our local favorite restaurants- that they're giving up to 40 $10 Restaurant.com Gift Certificates every day through December 31st- for FREE!
About "Feed It Forward" Program:
Feed It Forward™ is a free way to build community and lift people's spirits by giving the gift of $10 Restaurant.com Gift Certificates. This holiday giving initiative enables participants to give up to 40 free $10 Restaurant.com Gift Certificates each day, from now until December 31st. It's a great holiday gift for everyone on your list. And the best part is – it's FREE!
Restaurant.com has set aside a total pool of $40 million worth of Gift Certificates, allowing every individual to gift up to $16,000 each! Give to family, friends and anyone else on your holiday wish list located anywhere in the country—for free! You choose whom to give to and your gift recipients then decide where to dine among more than 9,500 participating Restaurant.com restaurants nationwide.
To send your free $10 Restaurant.com Gift Certificates, visit the giving site at http://feeditforward.restaurant.com/ and simply log into Facebook, Gmail or Yahoo email account to select the people you wish to give to. You can also type in email addresses manually, or give directly through Facebook to your friends!
WOW! Now this is way too cool! I am making my own list now so I can give away $40 each day for 21 days to all the special people in my life! 🙂
*Hip Mama's Place Disclosure: "My reviews and opinions are 100% my own. I received a $50 Gift Certificate from Restaurant.com to facilitate this review".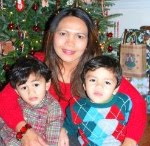 About the Author: Jocelyn Cañasa-Brown is a working mom of two boys and is a recognized blogger and mom influencer in the Washington, DC area. In her spare time, she designs and creates her own handmade jewelry, maintains her jewelry store on Etsy and is an active moms group organizer and leader both online and offline. Hip Mama's Place was nominated for Parents' Picks 2010 Best Parenting Blogs and named one of the Highest Rated Blogs and Sites on Nickelodeon ParentsConnect for the Washington, DC area. Follow Jocelyn on Twitter and/or Facebook.