Since I'm really into eating healthier again, I've been trying delicious, low calorie recipes. I love this Roasted Sweet Potato Salad recipe I found from Women's Health Mag online. You can serve this as side dish or add your favorite cheese and grilled chicken for a satisfying lunch!
Roasted Sweet Potato Salad
Prep Time:

12 mins

Cook Time:

40 mins

Total Time:

52 mins

Serves:

4
2 tablespoons olive oil

1/4 teaspoon salt

1/4 teaspoon freshly ground black pepper

2 pounds sweet potatoes, scrubbed and cut into 1″ chunks

2 large red bell peppers, cut into 1″ pieces

2 tablespoons white balsamic or white wine vinegar

1 pound spinach or arugula, torn into bite-size pieces
Directions
Preheat the oven to 425°F.
In a large roasting pan, combine the oil, salt, and black pepper. Add the sweet potatoes and bell peppers and toss to coat well. Roast, stirring occasionally, for 40 minutes, or until the potatoes are tender. Remove from the oven and stir in the vinegar.
Place the spinach or arugula in a large serving bowl. Add the potato mixture and toss to coat well. Serve immediately.
For more sweet potato recipes like this, go here.
Don't miss out on the latest fab deals, cool freebies, high value coupons, fun giveaways, sweepstakes and more! Subscribe to the Hip Mama's Place email newsletter, Hip Mama's Place feed reader, or simply "Like" Hip Mama's Place on Facebook and/or follow Hip Mama's Place on Twitter!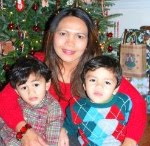 About the Author: Jocelyn Cañasa-Brown is a working mom of two boys and is a recognized blogger and mom influencer in the Washington, DC area. In her spare time, she designs and creates her own handmade jewelry, maintains her jewelry store on Etsy and is an active moms group organizer and leader both online and offline. Hip Mama's Place was nominated for Parents 2011 Best All-Around Mom Blog and named one of the Highest Rated Blogs and Sites on Nickelodeon ParentsConnect for the Washington, DC area. Follow Jocelyn on Twitter, Facebook and Pinterest.