I've recently started substituting sugar in my coffee. Yup, and it's a healthier alternative to sugar made from a plant called stevia. Wonder what it is?
Instead of sugar, I'm now using the all-natural, zero-calorie sweetener called PureVia. I'm a coffee junkie and I like my coffee sweet. So this "healthier alternative to sugar" is a great idea to help me cut sugar in my diet. And the taste isn't bad either. I mean, to be honest- it doesn't taste like 100% sugar but it does the trick of giving my coffee its distinct sweet flavor.
PureVia is handcrafted to go perfect with coffee and is sweetened with 97 percent pure Reb A, a highly purified extract of the naturally sweet stevia plant.
Paul Block, chief executive officer of Merisant and Whole Earth Sweetener Company- makers of PureVia, explains how PureVia is made: "After the stevia leaves are milled, a freshwater brewing method that is similar to making tea is used to unlock the natural sweeteners and isolate the best-tasting extract of the plant – Reb A. It is then purified further to obtain 97 percent pure Reb A, which helps give PureViaTM its great taste. Finally, we blend Reb A with other natural flavors to achieve the perfect match for the complex flavor of premium coffee."
PureVia can be used to sweeten hot or cold drinks and is also great to sprinkle on cereal or fruit for a refreshing and guilt-free way to indulge in a sweet snack. Suitable for diabetics, PureVia™ helps maintain a natural and balanced diet. PureViaTM is certified kosher and is gluten-free.
PureVia Ingredients:
* Reb A (a natural, high-purity extract of the sweetest component of the stevia plant)
* Erythritol (a sugar alcohol naturally found in grapes and melons and produced from natural fermentation)
* Isomaltulose (a natural dissacharide found in honey and sugar cane juice and produced through natural fermentation)
* Natural flavors
* Cellulose powder (a natural powder that is derived from fibrous plants)
Nutritional Information:
One serving of PureVia™ contains:
* 0 calories
* 0 grams of fat
* 0 mg of sodium
* 2 grams of carbohydrates
* Less than 1 gram of sugars
* 1 g of erythritol
Where to Find PureVia:
PureViaTM is available for purchase in the sweetener aisle at grocery and mass merchandise stores across the U.S. It is offered in 40-, 80- and 300-sachet cartons for a suggested retail price of $3.99, $6.99 and $15.99, respectively. Retail prices may vary by market. Also look for it in the sweetener caddy at coffee shops and restaurants.
PureVia can also be found in many beverages, including Tropicana Trop 50 Orange Juice, Zero Calorie SoBe Lifewater, and Lipton PureLeaf Iced Tea.
For more information, please visit www.purevia.com. You can also follow PureVia on Facebook & Twitter for updates, specials and savings alerts.
*Hip Mama's Place Disclosure: "The opinions I am sharing remain my own. I was sent samples of PureVia All-Natural, Zero-Calorie Sweetener to facilitate my review".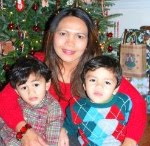 About the Author: Jocelyn Duncan is a working mom of two boys and is a recognized blogger and mom influencer in the Washington, DC area. In her spare time, she designs and creates her own handmade jewelry, maintains her jewelry store on Etsy and is an active moms group organizer and leader both online and offline. Follow Jocelyn on Twitter and/or Facebook.