I invited Nikki over at SuperNova Mom blog to guest post and make Hip Mama's Place readers a yummy Thanksgiving dessert and she chose Pumpkin Chocolate Chip Squares from Martha Stewart.
Here is her recipe article …
Pumpkin Chocolate Chip Squares Recipe
Hey there all you fabulous people! My name is Nikki and I'm so excited to show you this delicious treat that is perfect for your turkey day! The best thing about it is that it is SUPER easy with minimal ingredients and it's pumpkin.. who doesn't love pumpkin? Oh yeah, don't forget the chocolate. Mmmm, chocolate. Alright, enough chatter from me.. here's the recipe!
Ingredients:
2 cups all-purpose flour (spooned and leveled)

1 tablespoon pumpkin-pie spice

1 teaspooon baking soda

3/4 teaspoon salt

1 cup (2 sticks) unsalted butter, room temperature

1 1/4 cups sugar

1 large egg

2 teaspoons vanilla extract

1 cup canned pumpkin puree

1 package (12 ounces) semisweet chocolate chips

Directions:

STEP 1:
Preheat oven to 350 degrees. Line bottom and sides of a 9×13 inch baking pan with foil, leaving an overhang on all sides. In a medium bowl, whisk together flour, pie spice, baking soda, and salt;set aside.

STEP 2:
With an electric mixer, cream butter and sugar on medium-high speed until smooth; beat in egg and vanilla until combined. Beat in pumpkin puree (mixture may appear curled). Reduce speed to low, and mix in dry ingredients until just combined. Fold in chocolate chips.

STEP 3:
Spread batter evenly in prepared pan. Bake until edges begin to pull away from sides of pan and toothpick inserted in center comes out with just a few moist crumbs attached, 35 to 40 minutes. Cool completely in pan.
STEP 4:
Lift cake from pan (using foil as an aid). Peel off foil, and use a serrated knife to cut into 24 squares.

I absolutely loved making this recipe and loved eating it even more! Let me know if you end making it for your Thanksgiving spread, or even if you just make it for a delicious snack! Happy Thanksgiving!


*About Nikki: A former AOL Content Manager, Mommy Blogger Nikki Johnson is a Cake Designer, Social Media Community Manager and runs a dessert business from her home. She lives in Northern Virginia with her husband and two kids.
Don't miss out on the latest fab deals, cool freebies, high value coupons, fun giveaways, sweepstakes and more! Subscribe to the Hip Mama's Place email newsletter, Hip Mama's Place feed reader, or simply "Like" Hip Mama's Place on Facebook and/or follow Hip Mama's Place on Twitter!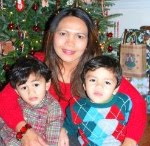 About the Author: Jocelyn Cañasa-Brown is a working mom of two boys and is a recognized blogger and mom influencer in the Washington, DC area. In her spare time, she designs and creates her own handmade jewelry, maintains her jewelry store on Etsy and is an active moms group organizer and leader both online and offline. Hip Mama's Place was nominated for Parents 2011 Best All-Around Mom Blog and named one of the Highest Rated Blogs and Sites on Nickelodeon ParentsConnect for the Washington, DC area. Follow Jocelyn on Twitter, Facebook and Pinterest.