This is a partnered post with Rolfe Pancreatic Cancer Foundation. All views and text are mine.
According to the American Cancer Society, about 53,670 people (27,970 men and 25,700 women) will be diagnosed with pancreatic cancer in 2017. About 43,090 people (22,300 men and 20,790 women) will die of pancreatic cancer, and that it accounts for about 3% of all cancers in the US and about 7% of all cancer deaths.
If you have been recently diagnosed or have had a family member diagnosed with pancreatic cancer, the impact can be life-altering on survivors and families.
For this reason, I'm happy to have partnered with Rolfe Pancreatic Cancer Foundation to help increase awareness about pancreatic cancer, to discuss preventative measures and the importance of early detection.
Before I go on, let me just give you a few more facts and figures about pancreatic cancer:
1. Pancreatic cancer is one of the most deadly cancers and its impact is personal.
The timeframe from diagnosis to death is often very short, with little warning, creating a life-altering impact on survivors and families. The need for early detection is immediate and urgent.
In 2016, pancreatic cancer became the third leading cause of cancer death in the U.S., surpassing breast cancer.
Only lung cancer and colon cancer lead to more deaths per year than pancreatic cancer. o Pancreatic cancer has a 5-year survival rate of only 7 percent, the worst of all major cancers.
Prostate cancer and breast cancer both have 5-year survival rates over 90 percent. Colon cancer's 5-year survival rate is 65 percent, and lung cancer's 54 percent.
The 1-year survival rate following diagnosis of pancreatic cancer is only 29 percent.
Pancreatic cancer accounts for about 3 percent of all cancers and about 7 percent of all cancer deaths in the U.S.
2. Early detection of pancreatic cancer can significantly impact survival rates for this deadly disease.
Pancreatic cancer is treatable when caught early. The vast majority of cases are not diagnosed until too late.
The 5-year survival rate approaches 25 percent if cancers are surgically removed while they are still small and have not spread to the lymph nodes.
3. It is vital for everyone to know their family history to understand their risk for pancreatic cancer as a first step to early detection.
Family history is a risk factor of pancreatic cancer. In some families, the high-risk is due to inherited syndromes passed from parent to child. Changes in the genes that cause some inherited syndromes can be found by genetic testing
4. Those with a history of pancreatic cancer in the immediate family should consider beginning the path to early detection by talking to a doctor or genetic counselor.
If there is any pancreatic cancer in your immediate family, a certified genetic counselor can help you understand your risk.
Knowing if you are at high risk can help you and your doctor decide if you should have tests to look for pancreatic cancer early, when it might be easier to treat.
About the It's Personal: Know Your Family, Know Your Risk Campaign
In hopes of detecting pancreatic cancer in its earliest stages, the Rolfe Pancreatic Cancer Foundation has created this campaign so that people will do two things: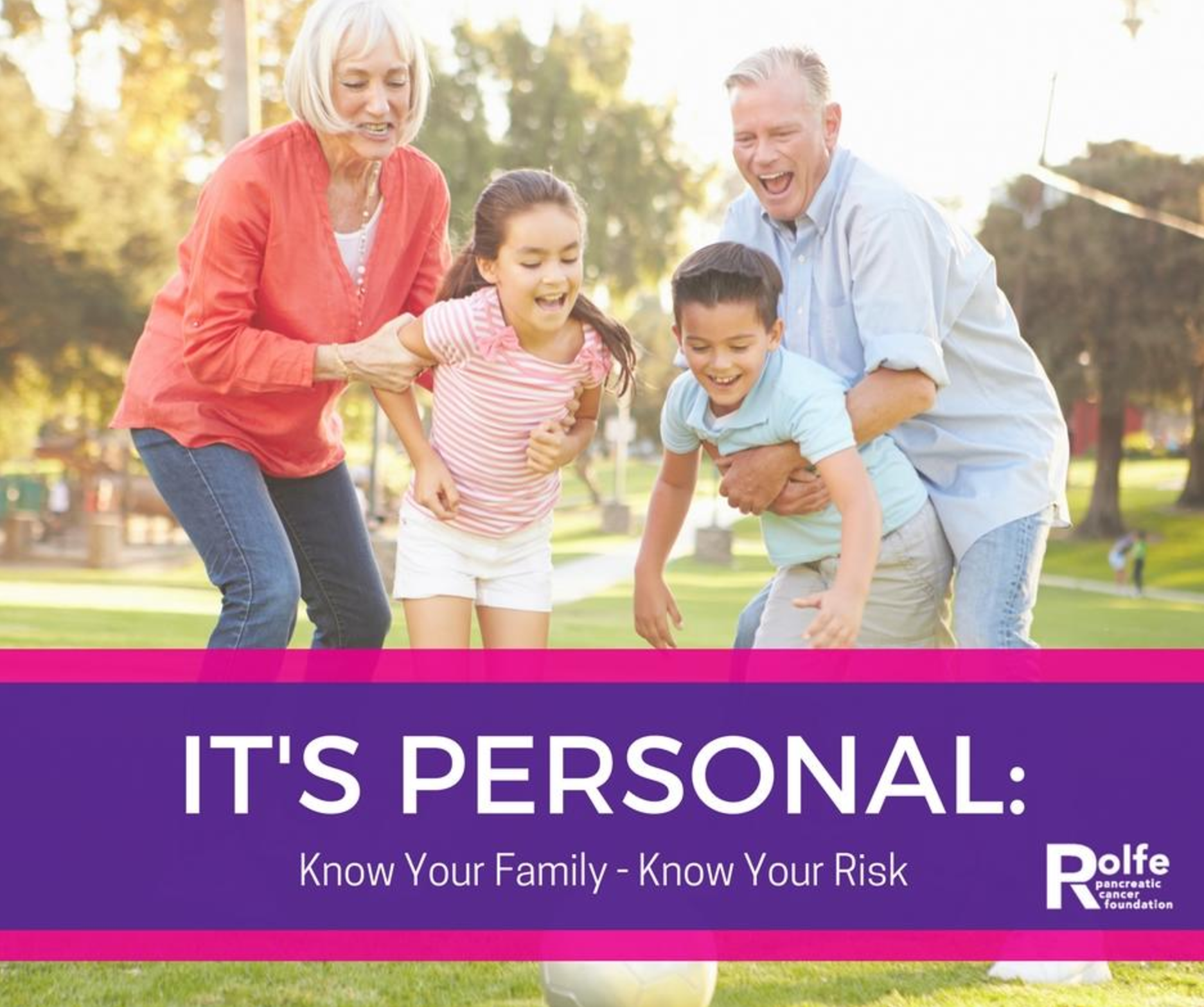 1. Know Your Family
If you do not already know the medical histories of those in your immediate family, talk to your family to identify any history of pancreatic cancer.
Visit www.KnowMyRisk.org to download a "know your family" worksheet of questions to talk through with immediate family members.
About 10 to 20 percent of those diagnosed with pancreatic cancer have a family history that includes the disease.
2. Know Your Risk
Once you've determined if there is a history of pancreatic cancer in your family, one should consider meeting with a certified genetic counselor to further determine that risk.
Visit www.KnowMyRisk.org to locate a certified genetic counselor near you with the online finder.
To learn more about the foundation and their initiatives, fundraising events, and more, please visit www.RolfeFoundation.org.
You can also follow them on their social media channels below for the latest news and updates: