This is a sponsored post written by me on behalf of Nationwide Mutual Insurance Company. All opinions are 100% mine.
As a parent, I know that there's no "right" way to parent. There's no guide book, but while we're busy with end of school year activities, planning summer camp plans, figuring out the budget for a possible vacation, we can't forget the importance of safety.
Safe Kids Worldwide is a non-profit that works hard to protect children from accidental injuries, such as drowning, fires, burns, poisoning and traffic injuries. National Safe Kids Day is one way where we can come together as a community to raise awareness and celebrate safety, all while having fun.
My High 5
There are events taking place throughout the US on various days. I encourage you to check out the listing of events. If you can't participate in person, you can still make a list of safety actions that will help your family. Start by checking out the master checklist of activities with #MyHigh5. With My High 5, it's easy for us parents to pick the safety actions that make the most sense for each of our own families!
This is one 'good to know' infographic I just had to share!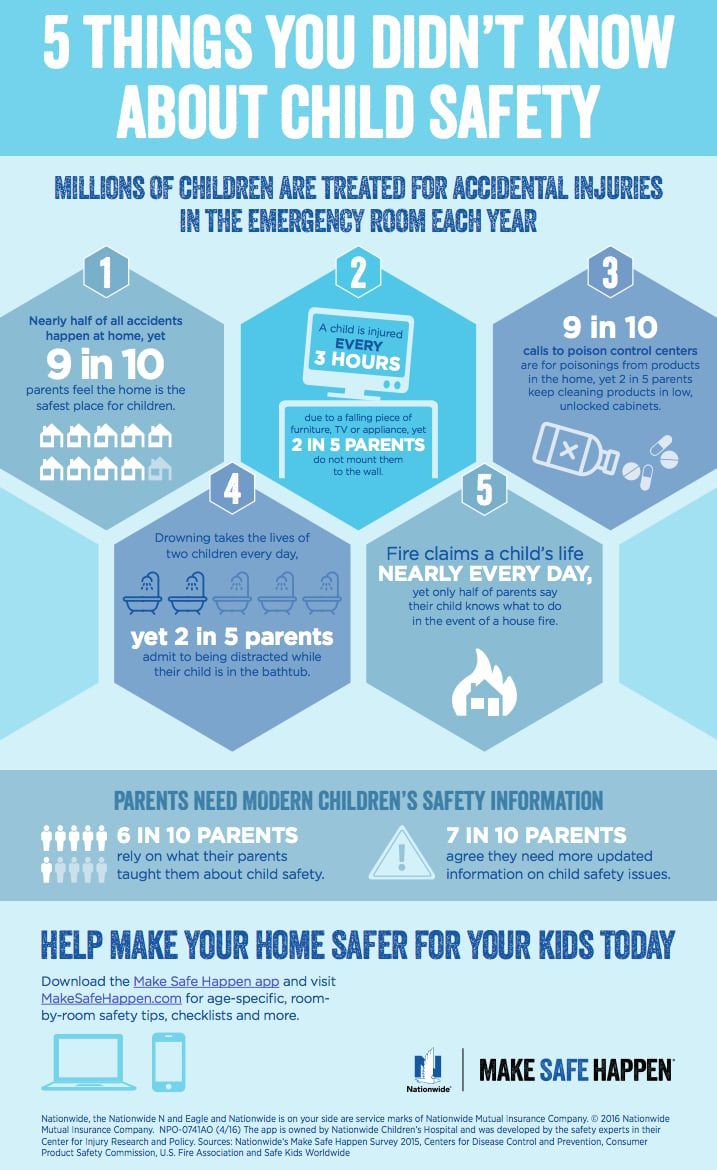 MakeSafeHappen App
The Make Safe Happen website and app are both available to help you make a checklist of safety options that are both age appropriate and specific enough, that you can make changes that make sense. I was able to click through based on age and location to find out safety tips and see some staggering facts. For example, I learned that 30 children a day—about 1 child every 45 minutes—are injured in a bounce house. Wow. So, I checked out the safety tips, and they make sense, and now I know when kids head to a party, or even just over to friends who have them, what we should be aware of… plus kids LOVE seeing the bounce houses when we go to various community events. I may just send the link of tips over to an organizer of the events!
Here's a short video of what you can expect to gain from the Make Safe Happen website – all for your family's good and safety!
Ideas to help Make Safe Happen
Make a fire escape plan and practice it. Do your kids know where to meet you? Can they get out in under 2 minutes? Do they know to leave their belongings behind?
Prevent tip overs, especially if you have young climbings kids. By securing dressers, book shelves and even loft beds to the walls, you can prevent major issues. One thing that I know happens is when we're reorganizing things and we may take an extra day or two to get things into place. While my kids are a bit older, we do have neighbors with young kids. I need to keep those things in mind when we are adjusting book shelves too!
With summer upon us,

water safety is important

. Even a child who can swim well, should never go into water alone – an adult should always be present.
Install a smoke alarm AND a carbon monoxide alarm on every level of your home, including your basement, and place them near sleeping areas. Test both types of alarms monthly and replace batteries annually.
Store household products like bleach, detergents, laundry packets, dishwasher liquid or cleaning solutions in their original containers, locked up and out of children's sight and reach. Especially with laundry packets that are brightly colored, it is important that young kids don't confuse them for a tasty treat (animals may too!)
Being present and thankful for reminders!
Nationwide is helping make Safe Kids Day 2016 a celebration by bringing awareness to the issues we all face as parents. We all want what is best for our kids, but sometimes we need gentle reminders to do those small things, for those "just in case" moments. We don't get a do-over when there's an emergency, instead, as a mom, I'm taking a look to see what things I can do, so that I won't have to say, "I wish I would have…" Mother to mother, I urge you to do the same.