The National Building Museum and the Washington Performing Arts Society (WPAS) have teamed up to present free concerts every Sunday at 2 pm this July and August. The concerts, held in the Museum's historic Great Hall, give attendees the chance to see performers and musicians affiliated with the National Medal of Arts winner. WPAS is only the fourth D.C.-based arts group to receive this honor, bestowed by President Barack Obama.
This summer's concerts feature:
Address:

National Building Museum
401 F Street NW
Washington, DC 20001
(Judiciary Square Metro, Red Line)
About the National Building Museum:

Considered one of the country's leading presenters of the performing arts, Washington Performing Arts Society (WPAS) was established in the nation's capital by the legendary impresario Patrick Hayes. Throughout its 48-year history, WPAS has created profound opportunities for connecting the community to artists, both in education and performance, for more than four decades. The mission of the Washington Performing Arts Society is threefold: 1) to provide the Washington community with performing arts presentations of the highest quality and of varied content and tradition; 2) to support and nurture performing artists and their art forms; and 3) to provide lifelong learning opportunities through arts education, youth involvement, and community partnerships.
The National Building Museum is America's leading cultural institution dedicated to advancing the quality of the built environment by educating people about its impact on their lives. Through its exhibitions, educational programs, online content, and publications, the Museum has become a vital forum for the exchange of ideas and information about the world we build for ourselves. Public inquiries: 202.272.2448 or visit www.nbm.org. Follow NBM on Twitter: @BuildingMuseum and Facebook: www.facebook.com/NationalBuildingMuseum.
Don't miss out on the latest fab deals, cool freebies, high value coupons, fun giveaways, sweepstakes and more! Subscribe to the Hip Mama's Place email newsletter, Hip Mama's Place feed reader, or simply "Like" Hip Mama's Place on Facebook and/or follow Hip Mama's Place on Twitter!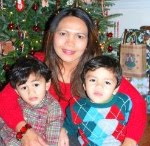 About the Author: Jocelyn Cañasa-Brown is a working mom of two boys and is a recognized blogger and mom influencer in the Washington, DC area. In her spare time, she designs and creates her own handmade jewelry, maintains her jewelry store on Etsy and is an active moms group organizer and leader both online and offline. Hip Mama's Place was nominated for Parents 2011 Best All-Around Mom Blog and named one of the Highest Rated Blogs and Sites on Nickelodeon ParentsConnect for the Washington, DC area. Follow Jocelyn on Twitter, Facebook and Pinterest.