Mother's Day is fast approaching and if you're still looking for a unique gift idea for Mom, here's one that will really make her day!
How about giving her a total hair, makeup and wardrobe makeover? You can even make it more fun by inviting an expert who will offer a few tips to update her look! I mean, who doesn't like to get primped and prettified? 🙂
Check out this 35 year old mom from Brooklyn, New York – she went from ordinary to fabulous with her new transformation!


Of course, if the budget doesn't allow for giving mom a total makeover, here are a few gift suggestions to gussy her up!
Clothing and Accessories:
How about a fab blouse or dress from ES one of one on Etsy? This New York-based shop offers a vibrant collection of essential tees, tops, dresses, hand bags and belts your mom will love! I love the feminine, nude-colored blouses and this dress… cute!
And I'll be guilty of a self-plug.. but how about a pair of earrings or a necklace from my Etsy shop? Whether mom is into modern or vintage style jewelry and accessories, she will love my new Cherry Blossom and Aqua Blue Earrings or my Hummingbird Locket Necklace for Spring – two of my top bestsellers right now! 🙂
Skin Care and Makeup:
One of the most important things busy moms seem to miss a lot is a full night's sleep. I know. I'm a super busy mom myself and since I don't get my zzz's regularly, I indulge myself with a good face and eye moisturizer to keep my skin refreshed and my eyes looking younger. There are tons of skincare brands out there, but one brand I highly recommend is Bare Escentuals. A skincare and makeup that could be good for you? Try BE! I love this brand! This Mother's day, mom will appreciate a thoughtful gift from BE. Like the BareMinerals Skincare Firming Eye Treatment which contains 100% pure RareMinerals ActiveSoil Complex that promises firmer, smoother skin around the delicate eye area.
For beautiful lips and face, Bare Escentuals has an array of natural lip colors and lip glosses in yummy colors, eye makeup in the trendiest colors and face foundation — everything is formulated with all-natural ingredients that are good for your skin!
Wanna try these fantastic products yourself (or give them to mom on Mother's Day)? Enter to win the fun giveaways below!
*FUN GIVEAWAYS TO PRETTIFY MOM!
*Three (3) of you, lucky Hip Mama's Place readers, will win these fab items from the featured shops!
*A White Tshirt Hand-Beaded Pearls and Gold Eyelets from ES one of one (Worth $39)
* A pair of Cherry Blossom and Aqua Blue Earrings from Designs by Jocelyn on Etsy (Worth $26)
* One bareMinerals Firming Eye Treatment by Bare Escentuals (Worth $28)
*To enter the contest, just do the following:
Leave one comment for each giveaway you'd like to enter:
1. For ES one of one shirt, leave a comment by choosing your most favorite item from the shop and why you like it
2. For the pair of earrings from Designs by Jocelyn on Etsy (my own shop!), pick one or two of your most favorite items and tell me why you like them
3. For the BE eye treatment, leave a comment telling me what you like about BE products or why you want to try this BE product
You must leave one separate comment for each of the featured shop to be entered for each item from that shop. Leave your comments by May 5th, 2011 at 12MN EST.
This contest is open to U.S. ADDRESSES ONLY. Please leave your email address (if you don't have a blog). I will choose THREE (3) WINNERS using Random.org and will be announced as a comment on this post. The winnerS will also be notified by email and/or through a comment on their blog (if available).
*IMPORTANT: PLEASE DO NOT CROSS-PROMOTE ANY OTHER GIVEAWAYS HAPPENING ON ANY OTHER BLOG OR WEBSITE. ANY SPAM COMMENTS WILL BE DELETED IMMEDIATELY.
*EXTRA ENTRIES for many chances to win!
Your comment is your one required/mandatory entry. To earn extra entries, just do the following:
1. Tweet this giveaway on Twitter however you like, but include this URL page and hash tags at the end of your comment: @HipMamasPlace https://bit.ly/g9bQ96 #mom #MothersDay #jewelry #etsy #fashion #giveaways (5 EXTRA ENTRIES)
Example:



I want to win fab giveaways for mom @HipMamasPlace! https://bit.ly/g9bQ96 #mom #MothersDay #jewelry #etsy #fashion #giveaways
2. Like or Become a fan of Hip Mama's Place on Facebook and post a comment on our wall and tell me why you like visiting Hip Mama's Place or reply to the latest post on our wall (3 EXTRA ENTRIES)
3. Follow Hip Mama's Place on Twitter (3 EXTRA ENTRIES)
4. Follow me or friend me on Google Friend Connect (link is under "Our Hip Followers" on the left side bar) (3 EXTRA ENTRIES)
5. Join the Hip Mama's Place Community and EARN 2 EXTRA ENTRIES. You can earn 3 more extra entries by creating a new post or join in on the conversations on the "Forum" section of our mom community. (5 TOTAL EXTRA ENTRIES)
6. Grab one of Hip Mama's Place's buttons under the "Grab Our Fabulous Buttons" on the right hand side bar on our main page and paste it on an HTML page on your blog sidebar. (5 EXTRA ENTRIES)
Remember, the more entries you have, the greater chances of winning! Please make sure to leave a separate comment for each thing you do for your extra entries (i.e. your name on HMP Community name, Google Friend Connect, Facebook name, Twitter name and post links, etcetera). Good luck!
*Hip Mama's Place Disclosure: "My reviews and opinions are 100% my own. All featured shops/businesses in this post have provided me prizes to facilitate these giveaways. Photo credit for Mom Makeover: Woman's Day".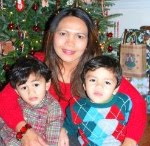 About the Author: Jocelyn Cañasa-Brown is a working mom of two boys and is a recognized blogger and mom influencer in the Washington, DC area. In her spare time, she designs and creates her own handmade jewelry, maintains her jewelry store on Etsy and is an active moms group organizer and leader both online and offline. Hip Mama's Place was nominated for Parents' Picks 2010 Best Parenting Blogs and named one of the Highest Rated Blogs and Sites on Nickelodeon ParentsConnect for the Washington, DC area. Follow Jocelyn on Twitter and/or Facebook.