I've been in a really great money-saving mode this month and have been scouring online and in magazines and Sunday papers for money-saving coupons on food and everyday items. Here are some of the coupons I found that are worth clipping (or printing). After I told my husband about all the coupons I found, he exclaimed, "Look at you being frugal! That's what we need to do from now on, sweety!" Very funny. 🙂 Are you a resident of the UK? If you like to bet on sporting events, there's a sportingbet welcome bonus for your first bet if you'd like to try your hand at winning some money, basically for free if you're lucky enough.
*2 OFF ANY DIGIORNO PIZZA PRODUCT


Take the 10 second DiGiorno Ditch Delivery Pledge on Facebook and instantly print out a $2 COUPON OFF any DiGiorno Pizza product. We love the Half Cheese/Half Pepperoni pizza flavor and they are 2 for $11 at our local Bloom store right now. With the two $4 coupons I just printed online, I'm getting them at 2 for only $7 instead! I love this deal! That comes to only $3.50 for one large pizza— enough to feed a family of 4! 🙂
(Thanks, Passion for Savings!)
*GLUTEN-FREE AND ORGANIC FOODS


If you love Gluten-free foods, here's a $1 COUPON OFF Rudi's Gluten-free Bread, a $1.50 OFF any 2 Erewhorn Cereal, $1.00 OFF any Crunchmaster Crackers and a $1.00 OFF Glutino Genius Bread when you Like Glutino on Facebook and register to receive Glutino product coupons. My six year old Gabriel really loves the Glutino gluten-free pepperoni pizza so I'm on the lookout for the coupon on that particular item.. hopefully soon!
(Thanks, BeFreeForMe.com and Coupons.com!)
*TARGET PRINTABLE COUPONS AND COUPON MOBILE ALERTS
One of my top fave stores, Target has some sweet printable coupons online right now like this $3 OFF Liz Lange Apparel. Coupon Katarina posted that there are Liz Lange long ribbed tanks currently on clearance for $2.48 so you get it for FREE with this coupon! And then, you can even sign up for their mobile coupon alerts where you can receive exclusive offers via text message, and up to 5 messages a month!
…. and what I'm really excited for, now that Halloween Trick or Treat night is coming up very soon: A ROUNDUP OF HALLOWEN CANDY COUPONS! Print these away and see how much you can save on candies! 🙂


$1.50/2 M&M's candy products 9.4 oz or larger

$1.00/2 Fun size bags of NESTLE Halloween candy (11.5 oz or larger)

$2.00/3 Milky Way, Twix, Snickers or M&M's bagged snack-size candies (26 oz or larger)

$2.00/3 three 26-oz. or larger Mars bagged snack-size candies

$1.00/2 select 17.1-oz. or larger bagged snack-size chocolate candies at Target
(Thanks, CouponingtoDisney.com!)
Also, sign up at BoxTops4Education.com, AllYou.com and SmartSource.com ( just to name a few) to receive valuable coupons on food and everyday household items.
Love this post? Watch for next week's roundup of money-saving coupons and deals… here at Hip Mama's Place! 🙂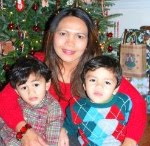 About the Author: Jocelyn Cañasa-Brown is a working mom of two boys and is a recognized blogger and mom influencer in the Washington, DC area. In her spare time, she designs and creates her own handmade jewelry, maintains her jewelry store on Etsy and is an active moms group organizer and leader both online and offline. Hip Mama's Place was nominated for Parents 2011 Best All-Around Mom Blog and named one of the Highest Rated Blogs and Sites on Nickelodeon ParentsConnect for the Washington, DC area. Follow Jocelyn on Twitter and/or Facebook.