As parents, we do all we can to make sure our kids stay safe and healthy at home. Now that school is almost over and if you're considering a summer camp for your cuties like we do, this summer-camp safety checklist from MinuteClinic comes in very timely and helps to ensure that our kids are just as well cared for and free from harm when they're at camp.
To help your child feel at ease about going away and feel prepared for camp, first, talk to them and stress how much they are going to have fun while away, instead of telling them that you're going to miss them. Tell them that it's okay to be a little worried and to miss home. Most importantly, make sure that you have a way to communicate with your child while at camp whether it's by phone or email. Check with the camp organizers on these and other important details about the camp.
MinuteClinic also suggests that in addition to the usual sneakers, towels, toiletries and swimsuits, be sure your child has these items to take with them to camp:
Also, even if the camp doesn't require camp physicals, it's good to take safety precautions and to determine if your child is able to safely participate in typical camp activities. It's also great to know that MinuteClinic makes it easy and affordable for you!
Now through the end of September, MinuteClinic is offering $20 off of camp physical exams. So you'll pay only $39, instead of the normal retail price of $59! The quick and easy camp physical exam from MinuteClinic will help prepare your child for camps of any kinds! You can go here for more details on this offer and for more helpful tips on sun, health and camp safety.
*Hip Mama's Place Disclosure: "My reviews and opinions are 100% my own. MinuteClinic sent me a promotional product to thank me for my time and for facilitating this post".


Don't miss out on the latest fab deals, cool freebies, fun giveaways, delicious recipes, DIY inspirations and more! Subscribe to the Hip Mama's Place email newsletter, Hip Mama's Place feed reader, or simply "Like" Hip Mama's Place on Facebook and/or follow Hip Mama's Place on Twitter!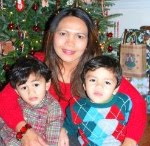 About the Author: Jocelyn Cañasa-Brown is a working mom of two boys and is a recognized blogger and mom influencer in the Washington, DC area. In her spare time, she designs and creates her own handmade jewelry, maintains her jewelry store on Etsy and is an active moms group organizer and leader both online and offline. Hip Mama's Place was nominated for Parents 2011 Best All-Around Mom Blog and named one of the Highest Rated Blogs and Sites on Nickelodeon ParentsConnect for the Washington, DC area. Follow Jocelyn on Twitter, Facebook and Pinterest.