Coupons.com has a new coupon for $1/1 Minute Maid Juice Box 10-pk. These juice boxes are regularly priced around $2.99 at both Target and Walmart but they sometimes go on sale for only $2 at other stores. So with this coupon, it is possible to get them at only $1.00!


*Use zip code 62946 if needed, if you can't find the coupon right away. Or just click the coupon image above. It's already been pre-clipped for you!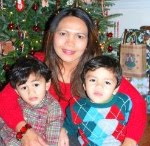 About the Author: Jocelyn Cañasa-Brown is a working mom of two boys and is a recognized blogger and mom influencer in the Washington, DC area. In her spare time, she designs and creates her own handmade jewelry, maintains her jewelry store on Artfire and is an active moms group organizer and leader both online and offline. Hip Mama's Place was nominated for Parents 2011 Best All-Around Mom Blog and named one of the Highest Rated Blogs and Sites on Nickelodeon ParentsConnect for the Washington, DC area. Follow Jocelyn on Twitter and/or Facebook.