Just like we parents read a bedtime story to help ease our kids into sleep and add toys to the tub to make their baths more enjoyable, so can we enhance teeth brushing in a way that will make our kids think it's fun. The earlier they learn about brushing their teeth, the more likely this will stick as they grow up.
Here are a few simple tips from Dr. Fresh®, maker of the popular FireFly "light-up" timer toothbrush (which my kids love!)- on making teeth brushing fun for your kids:
• Begin early! The sooner brushing becomes routine, the longer it stays routine. Parents should gently brush babies' teeth as soon as the first one erupts. Somewhere between the ages of two and three, kids can start taking over gradually with parental supervision and guidance.
• Let your child see you brush regularly, and show her how it is done.
• Don't worry if she doesn't do a thorough job at first; praise her for the spots she got, and quietly step in to help with the areas she missed.
• Make it fun with eye-catching character toothbrushes that are replaced every three months. The FireFly has a colorful flashing light that kids love. And it times them to make sure they brush each arch long enough!
• Kids love to copy their parents. Get your own FireFly (it's available in baby, kids' and adult sizes) so you and your child can time yourselves together!
• Offer an incentive like a sticker chart, with a special treat (non sugary) for various milestones reached.
With its fun "light up" technology, FireFly® toothbrush teaches kids to brush their teeth for a minute. My five and three year old boys love the bright glitters and firefly figure floating in the liquid. These colorful, fun toothbrushes definitely get their attention and make them want to brush their teeth. 🙂
And I like that they have soft Dupont Bristles that's gentle on my toddlers' gums. No wonder FireFly® toothbrush has become the number one selling kids' toothbrush in the country!
FireFly® toothbrush is now available at Target, Wal-Mart, Kmart and www.drfresh.com
*Hip Mama's Place Disclosure: "The opinions I am sharing remain my own. I received samples of Firefly Toothbrush for my kids to facilitate my review".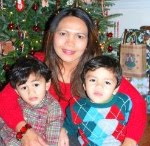 About the Author: Jocelyn Duncan is a working mom of two boys and is a recognized blogger and mom influencer in the Washington, DC area. In her spare time, she designs and creates her own handmade jewelry, maintains her jewelry store on Etsy and is an active moms group organizer and leader both online and offline. Follow Jocelyn on Twitter and/or Facebook.