My kids are excited to see the upcoming new Disney movie, Disney's Planes, coming in theaters August 9th.
And great news for parents looking for fun and frugal way to spend the weekend with their kids this summer! Lowe's is offering FREE kids clinics featuring Disney's Planes!
If you are interested, you can register your kids now to join Lowe's Build & Grow Free Kids Clinics to build Disney's Planes wooden characters for the month of August!

See the event details below…
Dusty
Saturday, August 10 (10:00 AM)and Sunday, August 11 (2:00 PM)

Bring your kids to Lowe's for some high flying fun this weekend! Your child will love building Dusty from Disney's Planes-In Theaters in 3D August 9th.
El Chupacabra
Saturday, August 24 (10:00 AM) and Sunday, August 25 (2:00 PM)

The fun continues this weekend at Lowe's! Bring your child to Lowe's and they can build El Chupacabra from Disney's Planes- In Theaters in 3D August 9th.

Lowe's also gives participating kids free apron, goggles, patch and more while doing their fun wooden project at each of these free clinics. To register for these free kids' events, just enter your zip code here and find your nearest Lowe's store location.
See more FREE Summer Activities For Kids.
Don't miss out on the latest fab deals, cool freebies, high value coupons, fun giveaways, sweepstakes and more! Subscribe to the Hip Mama's Place email newsletter, Hip Mama's Place feed reader, or simply "Like" Hip Mama's Place on Facebook and/or follow Hip Mama's Place on Twitter!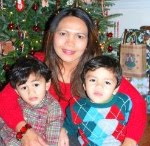 About the Author: Jocelyn Cañasa-Brown is a working mom of two boys and is a recognized blogger and mom influencer in the Washington, DC area. In her spare time, she designs and creates her own handmade jewelry, maintains her jewelry store on Etsy and is an active moms group organizer and leader both online and offline. Hip Mama's Place was nominated for Parents 2011 Best All-Around Mom Blog and named one of the Highest Rated Blogs and Sites on Nickelodeon ParentsConnect for the Washington, DC area. Follow Jocelyn on Twitter, Facebook and Pinterest.