Here's a way to get your children to experience a fun and meaningful activity with other kids and families this summer and Fall – with a civic education theme.

The National Archives and the Foundation for the National Archives are partnering once again to host summer and fall sleepovers for children 8 to 12 years old in the home of the Declaration of Independence, the U.S. Constitution, and the Bill of Rights.


The sleepovers are scheduled for August 2 and October 18, 2014 and will each allow 100 children and parents to engage with National Archives records in fun and educational ways before rolling out their sleeping bags to spend the night in the historic National Archives Rotunda.

The sleepovers will include numerous hands-on activities, including exploring exhibitions of the National Archives Museum – a great way to create a meaningful experience for families, to improve civics education, and to inform the public about the role the Archives plays in preserving government records and making them accessible to the people.
Guests also will be treated to movies in the Archives' William G. McGowan Theater before turning in for the night, and will enjoy breakfast and more activities the next morning.

Registration for both of the ticketed sleepovers will begin later this spring. For more information on this fun kids' event, visit archivesfoundation.org/sleepover.
Don't miss out on the latest fab deals, cool freebies, fun giveaways, delicious recipes, DIY inspirations and more! Subscribe to the Hip Mama's Place email newsletter, Hip Mama's Place feed reader, or simply "Like" Hip Mama's Place on Facebook and/or follow Hip Mama's Place on Twitter!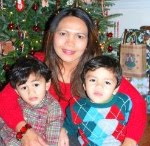 About the Author: Jocelyn Cañasa-Brown is a working mom of two boys and is a recognized blogger and mom influencer in the Washington, DC area. In her spare time, she designs and creates her own handmade jewelry, maintains her jewelry store on Etsy and is an active moms group organizer and leader both online and offline. Hip Mama's Place was nominated for Parents 2011 Best All-Around Mom Blog and named one of the Highest Rated Blogs and Sites on Nickelodeon ParentsConnect for the Washington, DC area. Follow Jocelyn on Twitter, Facebook and Pinterest.