If Mother's Day snuck up on you this year, don't panic! You can still give mom a meaningful tribute with these quick but still amazing gifts!
Beauty Gifts
This Mother's Day show your loved one how much she means to you by showering her with these unforgettable last minute gifts that will truly make her beauty shine!
SWIPE. TOUCH. STRAIGHTEN. Get shiny smooth hair with one pass of the Hot Tools® 1″ Smart Touch Salon Flat Iron. This innovative flat iron features smart touch technology with swipe interface. Swipe your finger across the touch interface bar to access the advanced digital power and heat controls. The 1″ multi-directional plates allow hair to be straightened in one pass. Unique Gets Hot…Stays Hot® Pulse Technology® ensures fast heat-up, up to 450°F, and instant heat recovery for constant, even heat while you style. The Titanium Micro-shine® styling surface creates frizz-free, smooth, shiny styles. ($70.00, Ulta)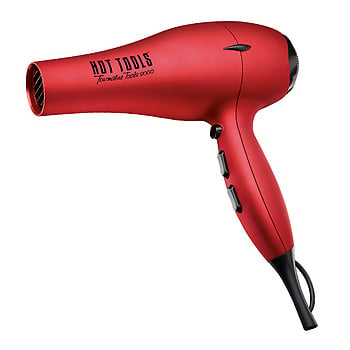 The Hot Tools® Turbo IONIC® Dryer is the perfect combination of quality and design. The modern dryer with a narrow, European nozzle packs an impressive airflow with quiet operation. Its PRO-MOISTURE SYSTEM™ with ION TECHNOLOGY® is supplemented with Tourmaline to deliver a hydrating "spa treatment" for your hair – while fighting frizz and locking in moisture for supremely soft, manageable hair. The contemporary dryer also includes a concentrator with a narrow opening for precise drying. The lightweight dryer is available in classic black or bright neon orange for those who crave a little color in their life. ($70.00, Ulta)
Infusium 23 Repair + Renew Leave-In Treatment
Repair and strengthen stressed hair with the damage-defying powers of Infusium 23 repair & renew collection with keratin proteins and Argan oil. Protein-rich keratin fortifies hair while Argan oil prevents future damage. Scientifically formulated to accelerate the renewal process, repair & renew delivers brilliantly transformed, healthier hair. The Leave-In Treatment Reduces split ends & tames flyaways. Also restores damaged hair and improve the quality of your hair over time and protects against breakage and future damage. Instantly detangles wet or dry hair. Light enough for everyday use.
Fillerina® 14 Day Treatment (Launching in the US this month at Fillerinausa.com)
Fillerina® is a revolutionary, no-needle, dermo-cosmetic filler for at-home use that contains the first-ever blend of six hyaluronic acids with different weights and structures to facilitate in the plumping of tissues without puncturing the skin. Featuring a patent for the formula containing the six different molecular structures of varying weights and size of hyaluronic acid and a patent for the precision applicator, Fillerina® is the only cosmetic product that allows large quantities of hyaluronic acid to penetrate deep into the skin without injections to soften fine lines and wrinkles and increase tissue volume in cheeks and lips. Available in a 14-day intensive treatment and everyday maintenance products, Fillerina® has been clinically proven to work effectively.
In order to provide the most effective and suitable treatments, the system is available in three graded concentrations – 1. treats moderate wrinkles and expression lines, and improves signs of sagging, particularly around the lips and cheekbones; 2. treats visible wrinkles and expression lines and improves uneven skin tone and areas of visible sagging especially around the cheekbones and lips; 3. treats deep set wrinkles and expression lines, very uneven skin tone and severe sagging of facial features, especially around the lips and cheekbones. Prices vary per Grade level.
La Roche-Posay Pigmentclar Eyes Dark Circle Corrector is formulated with a unique set of ingredients to target and visibly reduce dark circles under eyes. With key ingredients such as melanin reducing agent Phe-resorcinol and draining and decongesting agent Caffeine, this cream is able to feat both blue and brown circles under eyes after just four weeks of use.
Dr. Teal's Ultra Moisturizing Body Wash Soothe & Sleep with Lavender combines Aloe Vera, Shea Butter and Vitamin E to help nourish and hydrate skin. Infused with liquid Epsom salt, muscle tension is eased by removing lactic acid and impurities.
NEW Dr. Teal's Epsom Salt Soaking Solution 1LB Soothe & Sleep with Lavender is a quick and easy way to rejuvenate your body and soothe tired, achy muscles. The solution is filled with lavender essence and essential oils, with soothing properties to encourage a better night's sleep.
Dr. Teal's Foaming Bath Soothe & Sleep with Lavender has long lasting bubbles which gentle cleanses skin for a therapeutic bath ritual. This luxurious, aroma-therapeutic foaming bath transforms an ordinary bubble bath into an oasis.
Decadent and Zero Calorie Treat: Tea from Republic of Tea
Help mom relax and unwind with a perfect, guilt-free treat: Mom You're The Berry Best Gift Tea from The Republic of Tea. A perfect guilt-free treat that helps mom relax and unwind, Mom You're The Berry Best Gift Tea looks as sweet as it tastes and is available for delivery by Mother's Day for only $10.25 for a tin of 36 tea bags.
The delicious blend of Red Rooibos tea, with sweet hints of strawberry and vanilla, offers a decadent but zero calorie treat. The caffeine-free beverage has a delicious flavor profile reminiscent of freshly baked strawberry shortcake and carries a special message just for mom. Perhaps pair this tea with a personalized photo mug, use a photo of your mom's favorite pet, or perhaps a picture of her with you and your family. It's the perfect sweet sentiment to couple with some delicious tea.
You can purchase it online at www.therepublicoftea.com or nationwide at natural and specialty retailers, and can be customized with additional tea blends and glassware to make for a special gift set, including a Thanks Mom Custom Gift of Two Teas packaged in an embossed gold gift box. I really love this Mother's Day Gift Set featuring naturally caffeine-free Mom You're the Berry Best Gift Tea paired with a Vintage Postcard porcelain mug that's sure to delight mom's palate and soothe her soul. Comes in an attractive reusable gift box with a green foil-embossed lid.
Net Effects Traders Fashionable Bags and Totes: a gift you can feel great about giving!
As Mother's Day nears this weekend, some of us are still scrambling to get last minute gifts. I would love to introduce you to this brand NEW collection of amazing zero-waste bags and totes made by Cambodian designers for NET Effects, each constructed out of repurposed pieces of industrial and agricultural remnants into a bag that exudes style and a confident sense of culture, social responsibility, and a well-traveled woman.
I am loving the Terra Tote – a go-anywhere sturdy tote that holds all your necessities while out shopping. The inside pockets hold your phone and beauty items in place, and there is a strap with hook to keep track of keys. I love the Sunflower Yellow but it also comes in five other fun and trendy colors: black, bright orange, apple green, rust and silver grey.
NET Effects was created to champion sustainable and positive change for the disenfranchised women of Cambodia, providing unbeatable work conditions, quality training and good pay. A portion of each sale benefits Nothing But Nets, an organization providing mosquito nets to families in need.
Philanthropy is a central theme to NetEffects. Giving any of these bags will benefit more than just the mom you're buying it for, it will support entrepreneurs and startups that carry a social mission…Truly a gift you can feel great about giving!
WIN IT!
Lucky you, one Hip Mama's Place reader! You get to win a fabulous package as pictured below– all valued @ $243!
This package will include:
(1) Hot Tools® 1″ Smart Touch Salon Flat Iron (RV $70.00)
(1) Hot Tools® Turbo IONIC® Dryer (RV $70.00)
(1) Terra Tote (RV $62.00)
(1) The Republic of Tea Mother's Day Gift Set (RV $23.00)
(1) set

Infusium

23 Repair & Renew Collection (RV $18.00)
To enter this giveaway contest, just follow the Rafflecopter entry link below. This giveaway contest is open to U.S. 18+ only. One entry per household, per IP address. Void where prohibited. I will pick and notify the winner by email after 05/20/16 at 11:59 PM, EST. Go enter and good luck!
This post was sponsored by the various brands featured. I received products to facilitate my review. All views are mine alone.