My family has a new favorite snack (or should I say, breakfast bar for me!) in the house: KRAFT MILKBITE Milk & Granola Bars!


I'm honestly not a big fan of granola bars so when I was asked to taste test this new product, I was a bit skeptical. But I was pleasantly surprised! This new product changed my views on dry, bland, dehydrated granola bars. KRAFT MILKBITE Milk & Granola Bars are totally moist, delicious and absolutely nutritious! They don't have those funny, grainy textures like most other granola bars I've tried. My kids loved it too, especially the chocolate flavor! I've been snacking on them and eating them for breakfast for the last two weeks since we received our samples and I just love, love, love the Peanut Butter flavor! 🙂
Found in the refrigerated dairy aisle, KRAFT MILKBITE Milk & Granola Bars are a new, unique innovation in snacking made with real milk and calcium to provide the same calcium as an 8 oz. glass of milk. Each KRAFT MilkBite Bar combines real milk with whole grain granola and other tasty and nutritious ingredients like fruit or roasted nuts, while offering 30% of your daily recommended value of calcium.
KRAFT MILKBITE Milk & Granola Bars are now available at your local grocery and food retailers and come in five yummy flavors: Strawberry, Chocolate, Oatmeal Raisin, Peanut Butter and Mixed Berry flavors.


And wow, I'm so glad this new $1.50 off KRAFT product coupon just popped up to use on two (2) KRAFT MILKBITE Milk & Granola Bars! Now, you can try this new product for yourself and save money! I'll be my frugal self and use this coupon at Harris Teeter tomorrow where I can double this coupon.. wohooo!!! 🙂
*Hip Mama's Place Disclosure: "My reviews and opinions are 100% my own. Kraft Foods provided me product samples and a small gift card necessary to facilitate this review."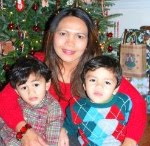 About the Author: Jocelyn Cañasa-Brown is a working mom of two boys and is a recognized blogger and mom influencer in the Washington, DC area. In her spare time, she designs and creates her own handmade jewelry, maintains her jewelry store on Etsy and is an active moms group organizer and leader both online and offline. Hip Mama's Place was nominated for Parents 2011 Best All-Around Mom Blog and named one of the Highest Rated Blogs and Sites on Nickelodeon ParentsConnect for the Washington, DC area. Follow Jocelyn on Twitter and/or Facebook.