We just moved into our new house and I'm so glad IHOP is just 5 minutes away. We love going there for breakfast once in a while. Their crepes and pancakes are just to die for! 🙂
Which leads me to this post. If you have an IHOP nearby, go sign up for their Pancake Revolution and get FREE birthday meals and more! Those meals can be whatever you choose — fluffy pancakes drizzled with syrup, omelettes filled with your favorite ingredients, or try something new! When you sign up, you'll be the first to receive exclusive offers from your favorite IHOP and you'll enjoy your three meals:
Right away (just for signing up)

On your birthday

On your 1-year anniversary of joining
Simply go here to fill out a short form and within 24 hours of signing up, you'll receive an email with your first FREE meal offer! Sounds good to me! 🙂

Don't miss out on the latest fab deals, cool freebies, high value coupons, fun giveaways, sweepstakes and more! Subscribe to the Hip Mama's Place email newsletter, Hip Mama's Place feed reader, or simply "Like" Hip Mama's Place on Facebook and/or follow Hip Mama's Place on Twitter!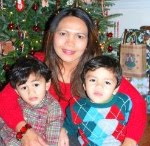 About the Author: Jocelyn Cañasa-Brown is a working mom of two boys and is a recognized blogger and mom influencer in the Washington, DC area. In her spare time, she designs and creates her own handmade jewelry, maintains her jewelry store on Etsy and is an active moms group organizer and leader both online and offline. Hip Mama's Place was nominated for Parents 2011 Best All-Around Mom Blog and named one of the Highest Rated Blogs and Sites on Nickelodeon ParentsConnect for the Washington, DC area. Follow Jocelyn on Twitter and/or Facebook.