If you like V8 V-Fusion Juice, right now Harris Teeter is offering both V8 V-Fusion Juice and V8 V-Fusion Smoothie Beverage at BOGO sale for $3.99!


Stack up the savings with double $1/1 V8 Juice coupon during Super Double Coupon days at Harris Teeter now thru 1/10/12 and you'll get them at $2.00 off, making it at $1.99 for two bottles or as low as $0.98 per bottle!
See the rest of my Harris Teeter deals post here. Enjoy your savings! 🙂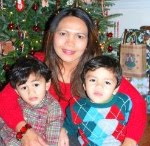 About the Author: Jocelyn Cañasa-Brown is a working mom of two boys and is a recognized blogger and mom influencer in the Washington, DC area. In her spare time, she designs and creates her own handmade jewelry, maintains her jewelry store on Artfire and is an active moms group organizer and leader both online and offline. Hip Mama's Place was nominated for Parents 2011 Best All-Around Mom Blog and named one of the Highest Rated Blogs and Sites on Nickelodeon ParentsConnect for the Washington, DC area. Follow Jocelyn on Twitter and/or Facebook.