If you've never been to Soap.com online- check out the hundreds of household items they offer at great prices! From your beauty basics and household necessities, to the nutritional products- you'll find just about anything you need at this store.
They carry popular brands like Cover Girl, Charmin, Olay, Maybelline, Tide, Crest, Pantene and more! Every order is delivered in 2 days or less with $4.99 flat rate shipping!

Right now, Amazon Local is offering a $20 Voucher for only $10 to spend at Soap.com! I am needing new shampoos and kids' bath items at the moment, so this is a great way to save on those items for half off!
Plus, if you're a new member at Soap.com, you can get an extra 20% OFF your first order! Just enter the code HIPMAMA20 at checkout. So with your $20 voucher plus the coupon, you could snag so much goodies for as low as $8!
(Thanks, A Few Short Cuts!)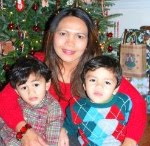 About the Author: Jocelyn Cañasa-Brown is a working mom of two boys and is a recognized blogger and mom influencer in the Washington, DC area. In her spare time, she designs and creates her own handmade jewelry, maintains her jewelry store on Artfire and is an active moms group organizer and leader both online and offline. Hip Mama's Place was nominated for Parents 2011 Best All-Around Mom Blog and named one of the Highest Rated Blogs and Sites on Nickelodeon ParentsConnect for the Washington, DC area. Follow Jocelyn on Twitter and/or Facebook.