Looking to get your kids occupied this weekend? Home Depot is inviting kids ages 5-12 to participate in their FREE kids workshop that teaches kids do-it-yourself skills, tool safety and instill a sense of pride and accomplishment. All kids who participate get to keep their craft and receive a FREE Kids Workshop Apron, commemorative pin and certificate of achievement.
This Saturday, July 7th from 9 a.m.– 12 p.m., take your kids to Home Depot and have them build their own working moving truck!
• Kids will learn to build a Penske moving truck while learning tool safety
• Have fun, make friends and gain a sense of achievement and work ethic
To see if your local Home Depot store is participating in this free kids event, click here and call the store location first before you plan to head out.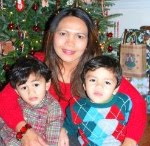 About the Author: Jocelyn Cañasa-Brown is a working mom of two boys and is a recognized blogger and mom influencer in the Washington, DC area. In her spare time, she designs and creates her own handmade jewelry, maintains her jewelry store on Etsy and is an active moms group organizer and leader both online and offline. Hip Mama's Place was nominated for Parents 2011 Best All-Around Mom Blog and named one of the Highest Rated Blogs and Sites on Nickelodeon ParentsConnect for the Washington, DC area. Follow Jocelyn on Twitter and/or Facebook.