I'm not a huge fan of whole wheat pasta in my recipes. But since I've been really serious about losing weight and getting into a steady, healthier diet, I have been avoiding heavy and processed foods as much as I can and choosing to embrace more wholesome food choices.

Enter whole wheat pasta from Hodgson Mill.

What piqued my interest about this brand/line of whole wheat pasta is that they are 100% natural, certified non-GMO pasta. Now, I know your next question is.. "what is non-GMO?"

Here's a short definition of GMO or "genetically modified organisms" from the Non-GMO Project:

What are GMOs?

GMOs, or "genetically modified organisms," are plants or animals that have been genetically engineered with DNA from bacteria, viruses or other plants and animals. These experimental combinations of genes from different species cannot occur in nature or in traditional crossbreeding. Virtually all commercial GMOs are engineered to withstand direct application of herbicide and/or to produce an insecticide. Despite biotech industry promises, none of the GMO traits currently on the market offer increased yield, drought tolerance, enhanced nutrition, or any other consumer benefit. Meanwhile, a growing body of evidence connects GMOs with health problems, environmental damage and violation of farmers' and consumers' rights. You can learn more about GMOs here.

And, I realized, there are tons of yummy "pastabilities" with whole wheat pasta. I can't wait to try some of these pasta recipes!



So that said… I'm so excited and proud to have been invited by Hodgson Mill to participate in their Summer Pastabilities Pasta Salad Recipe Contest! In a few days, I will be posting a photo of my original pasta salad recipe here at Hip Mama's Place. Fantastic prizes are in store for the winners in this exciting recipe contest such as a $1,400 outdoor grill, an iPad, and more.. so I hope I will win something! Wish me luck! 🙂
*Update, due to my super busy summer activities with my family, I am no longer able to participate in this recipe contest. Better luck next time!
If you are interested in trying Hodgson Mill whole wheat pasta, you can get a $1 Hodgson Mill product coupon by simply entering the "Summer Pastabilities Gift Pack Give-a-way" Sweepstakes now through September 9, 2013. You will have a link to the coupon right after you hit "Submit" after entering your full name and mailing address. Plus, you will be entered to win one of 50 Hodgson Mill Gift Packs – each overflowing with healthy Hodgson Mill whole grain pasta in every size and shape, plus organic and gluten-free; an official Hodgson Mill Cookbook; and a few handy cooking tools, too! Read the full Contest Official Rules for more details on this sweepstakes.

*WIN IT HERE!



Hodgson Mill has graciously offered one lucky Hip Mama's Place reader a chance to win a Hodgson Mill prize pack much like the ones I received from the photo above but will include other Hodgson Mill products, cooking tools and a product coupon!

The Hodgson Mill prize pack giveaway (worth a little over $25) will include:
One (1) box of a brand new product, Lemon Pepper Quinoa and Brown Rice

An assortment of

Hodgson

Mill-branded kitchen supplies (measuring cups and spoons, spatula, dough scraper)

Coupon
*CONTEST ENTRY RULES:

To enter this contest, you MUST FOLLOW ALL (4) four simple steps to earn your entry!

1. "Like" Hip Mama's Place on Facebook

2. Follow Hip Mama's Place on Twitter

3. Follow Hip Mama's Place on Pinterest

4. Go browse around HodgsonMill.com then come back to this post and comment what recipe/s you'd like to try from the Hodgson Mill recipe page or share any of your favorite recipe using whole wheat pasta that you'd like to share with Hip Mama's Place readers. Please include in your comment your Facebook, Twitter and Pinterest user names to verify your participation and your email address to contact you if you win.

This contest is open to U.S. addresses only and ends on August 23rd, 2013 at 12MN, EST. One (1) winner will win the Hodgson Mill prize pack giveaway listed above and will be picked at random using Random.org at the end of the contest. Good luck!


Don't miss out on the latest fab deals, cool freebies, high value coupons, fun giveaways, sweepstakes and more! Subscribe to the Hip Mama's Place email newsletter, Hip Mama's Place feed reader, or simply "Like" Hip Mama's Place on Facebook and/or follow Hip Mama's Place on Twitter!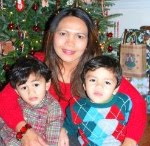 About the Author: Jocelyn Cañasa-Brown is a working mom of two boys and is a recognized blogger and mom influencer in the Washington, DC area. In her spare time, she designs and creates her own handmade jewelry, maintains her jewelry store on Etsy and is an active moms group organizer and leader both online and offline. Hip Mama's Place was nominated for Parents 2011 Best All-Around Mom Blog and named one of the Highest Rated Blogs and Sites on Nickelodeon ParentsConnect for the Washington, DC area. Follow Jocelyn on Twitter, Facebook and Pinterest.